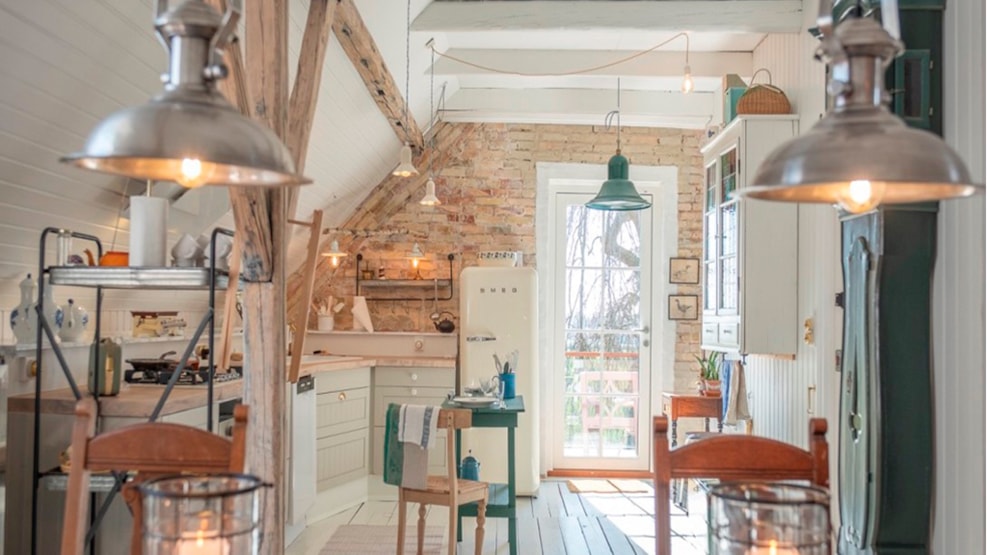 Aunslev Højgaard Bed & Breakfast
Aunslev B&B
Højgaard B & B is a newly restored, restored accomodation furnished on 1-floor of a four- winged family farm from 1860, which has been in family ownership since 1927.
The farm called Højgaard for the orchard is Aunslev's high e next point, with the city's small pond next door, where there are water lilies and ducks.  
 Animals are associated with agriculture and we are no exception; hare r jumps through the courtyard early in the morning, ducks, wild birds and lots of butterflies as well as our old terrier is Eddie.
 We have 3 rooms (6 beds), 1 wc / bath, huge kitchen family room in conjunction with a living room - everything made / furnished with respect for the farmhouse which is from 1912. You can choose to rent it all or a single room. The roof terrace (private entrance), which is part of the rental, has secluded views of 145 degrees; from the Great Belt Bridge in the east to Kogsbølle hill to the south and Ferritslev in the west.
You are no longer out in the country than we can offer free internet for eg. streaming.
To Højgaard there is a large kitchen , fruit and ornamental garden with many terraces and bonfire; everything is for free use during the stay. The kitchen / fruit products are also delivered to Copenhagen, where our daughter and son-in-law run the Garden Restaurant & Bar. Højgaard has a pantry in which we store storage facilities. homemade pastries and other foods that our guests can buy for their morning food. In the living room there is a wine cabinet that contains drinks and delights that can be purchased.
 Unfortunately, there is no grocery store in Aunslev, but Ullerslev is only 4 km away where there are supermarkets that open between 8-22.
 If you live at Højgaard , it is easy to get around Funen or Denmark - the E20 motorway,   Exit 46 (Nyborg V) is only 3 turns, 4 min. (3 km) from Aunslev.  
 Nyborg         7km     8min
Ullerslev         4km     4min
Kerteminde   13km   13min
Odense         30km   24min
Copenhagen     144km   1h 30min  
Aarhus           170km   1h 45min.
Skagen         390km   4t
Germany       180km   1h 45min
Sweden         195KM   2t30min.