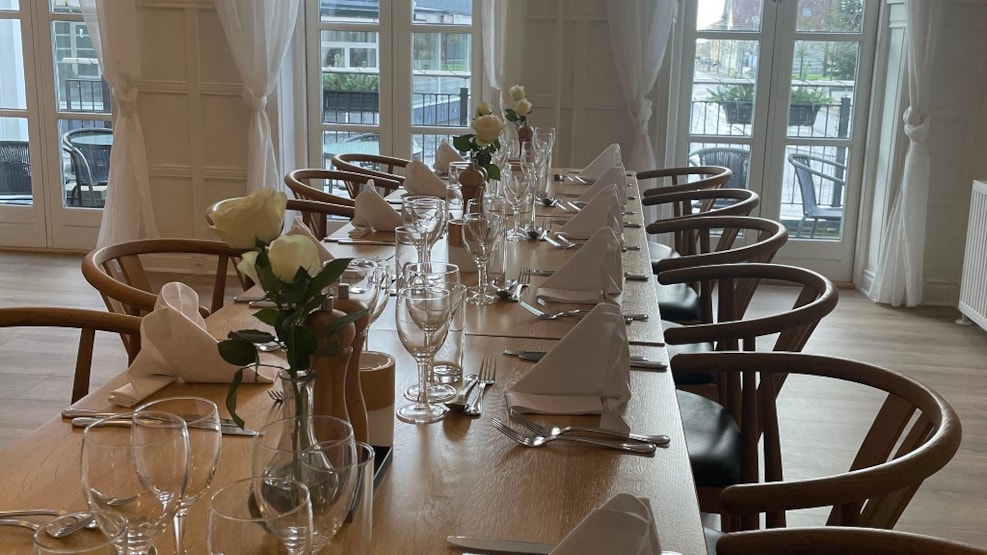 Gæstgiveriet at GlamsBjergHus - Restaurant
Sleep in a Beautiful holiday apartment at GlamsBjergHus
Visit the beautiful restaurant, Gæstgiveriet at GlamsBjergHus. Gastronomic food with a twinkle in the eye.
In our restaurant, Gæstgiveriet, you will have a unique experience, where seasonal ingredients dominate the menu and the food is made from scratch. See our opening hours on our website, where you can also read our menu and about the various events we regularly hold in Gæstgiveriet.
Are you coming by bike? You can park your bike in our locked bike area through the grey gate of the façade. It is possible to park your bike in good conditions and cyclists can have their bikes flushed outside. There is a lift with space for bicycles, so the bike can also "spend the night" in the apartment.
There are three good golf courses near GlamsBjergHus. Bike park in Glamsbjerg and 2 mountain bike trails within 10 km in Assens and Hårby respectively. See more about mountain bike routes here. In addition, there are many hiking routes, not far to the beach, several museums and galleries within a radius of 20 km.