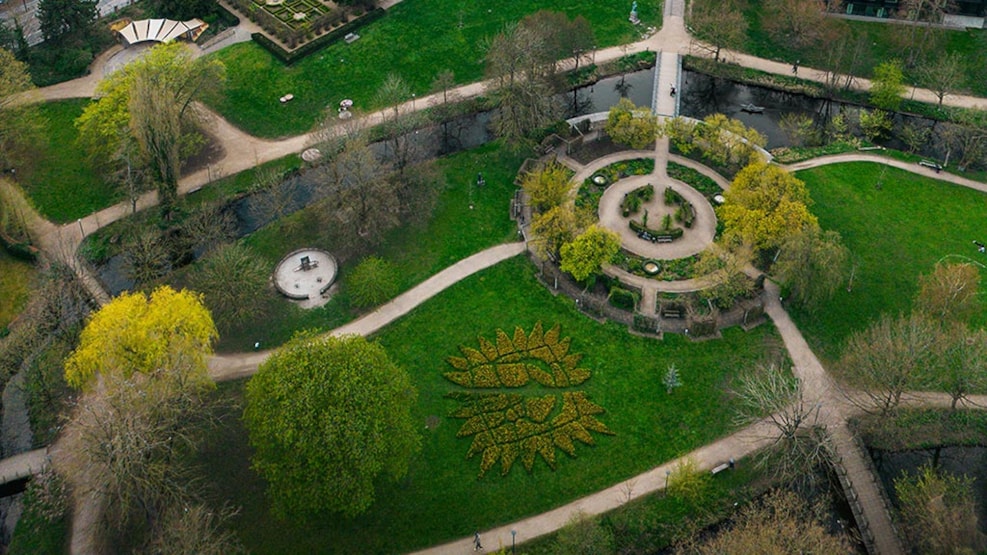 The Fairy Tale Garden
You will find the fairytale garden by Odense Å, just behind Odense Cathedral and Odense City Hall. Via a nice wooden bridge, you can cross the river over to the rotunda, a small circular island in the garden. Depending on the season, the beds here are bursting with spring bulbs, dahlias and perennials, and you can sit on the benches and enjoy the view. The cosy wooden staircase along the water invites you to sit and watch the water and the ducks.
In 1949, the H.C. Andersen statue, created by Louis Hasselris, was placed in the garden. Close by in the river, Erik Heide's sculpture The Paper Boat from 1985 sails along, and there are several other sculptures around the park.
The pergola on the rotunda, the bridges in the garden and the Chinese wall have been designed and executed in quality materials, worthy of a town hall garden. The original pergola showcased a beautiful pattern of diamond-shaped beds.
The garden was laid out in 1876 by the Reading Association, and initially, it was closed to ordinary visitors. The reading association was a library for wealthy citizens, and only people with access cards could visit. In 1942, the Reading Association transferred the garden to Odense Municipality, and a completely new park emerged. Behind the project were the garden architects C. Th. Sørensen and P. Wad, in collaboration with architect B. Helweg-Møller, who was the architect of the town hall.