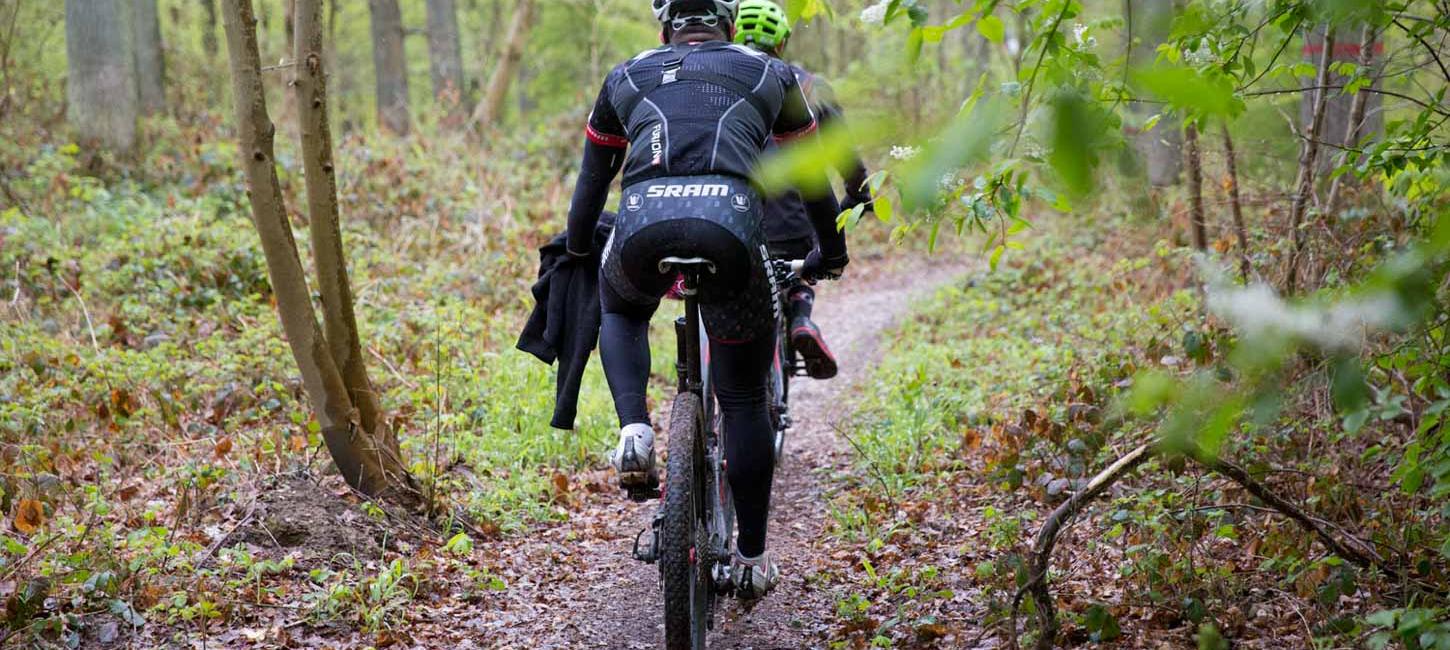 Ten tips for your first mountain bike ride
An action-packed ride through the woods is a real treat. However, if it is your first time, it is best to prepare properly before pitting your wits and strength against the mud and other challenges. Here's a list of our top ten tips.
1. Don't forget your helmet
Your head is the most important part of your body. So it's a good idea to keep it safe if things go wrong. Even though it isn't a legal requirement, we strongly recommend that you always wear a helmet when riding a bike. This applies in particular to mountain biking, where there is a high likelihood of hitting your head against something unforgiving if you are unlucky enough to crash. Another benefit of wearing a bike helmet is that it will protect your head against low-hanging branches. Authentic mountain bike helmets feature a visor, which is great at deflecting things that might otherwise hit you in the head. Moreover, they provide extra protection for the back of your head. So it's a good idea to buy a proper mountain bike helmet if you fall in love with the sport. Otherwise, any helmet is better than no helmet at all.
2. Take spares with you
There's nothing more frustrating than suffering a puncture in the woods. So make sure to have some basic tools and spare parts with you at all times. You can carry them in a backpack or in a small saddle bag. We recommend that you always carry a spare inner tube, tire levers and a small pump. It's also a useful to have a small multi-tool featuring the most common functions. An associated tip is to practise changing a tire a couple of times at a leisurely pace at home – so you know what to do when it really matters.
3. Always carry a phone
Always take a phone with you in the event that you get lost or – worst case scenario – if you crash and wind up with an unusable bike and a physical injury. It is a good idea to put it in a sealed bag to protect it from moisture and dust. Another useful tip is to install a GPS tracking app so you can use your phone to guide people to your location if you should have an accident. It's also good to have a phone so you can document your ride on sports apps and check your performance when you come home. NB Never use your phone while you are riding.
4. Dress appropriately
For mountain bikers in particular, it is essential to wear the right clothes. You can, of course, buy special mountain biking kit, but you can certainly use "ordinary" sports clothes as well. However, we would recommend that you buy a pair of proper cycling shorts/tights, as they are designed to be worn next to the skin to prevent chafing. If you use cycling shorts, do not wear underpants as well, because this can result in irritation or saddle sores. In addition, cycling shorts are treated with antibacterial agents. A good pair of cycling gloves will also pay dividends, as they will protect you against a lot of shakes and bumps during the day. In addition, they will help keep you warm on cold days and protect your hands if you crash.
5. Make room and cycle calmly past others
As a mountain biker, you'll often find that you're not the only person enjoying the woods. Some mountain bike trails are reserved exclusively for riders, but some will take you along public paths where there may be other people walking or riding. If you encounter other people, let them know you are there, slow down, and ride in a wide arc around them if possible. People may not necessarily know you are coming up behind them, and might therefore change direction unexpectedly. In addition, horses and pedestrians may be startled if you whiz past them without any warning.
6. Stay off wet tracks
It's best to stay off tracks and trails after a lot of rain because the surface will be wet and soft, and cycle tyres can easily damage it. So try to avoid cycling on soft, muddy tracks.
7. Stick to the path
Most mountain bike routes run through private woods, where it is prohibited (by law!) to leave the signposted paths and roads. So make sure to stick to the path so that you won't damage the surrounding countryside – and we can keep on riding through private woods.
8. Dismount if the route is too tough
You're not going to become a world champion overnight, and there's no reason to go home injured. So it's a good idea to ride around obstacles – or get off and walk – if the route becomes too demanding or the hill too steep. Even the best riders admit defeat sometimes.
9. Keep your bike in good condition
There's only one thing worse than a bike you can't ride … and that's a bike you can't stop. So make sure to keep your bike in good condition. We recommend that before every ride, you check that the chain is greased, the brakes are working and that the whole bike is generally in decent condition. It's also a good idea to wash your bike after a muddy ride as this improves both safety and durability – and who doesn't prefer to ride a clean machine?
10. Don't forget to eat and drink
There's no point having a beautiful bike if you don't have the energy to ride it. So make sure that you always have plenty to drink with you – no matter how short the ride is. And if you're heading off on a long ride, take some food as well. There are plenty of specialist sports energy products such as energy bars and gels to choose from, but a banana and some flapjacks would do just as well.