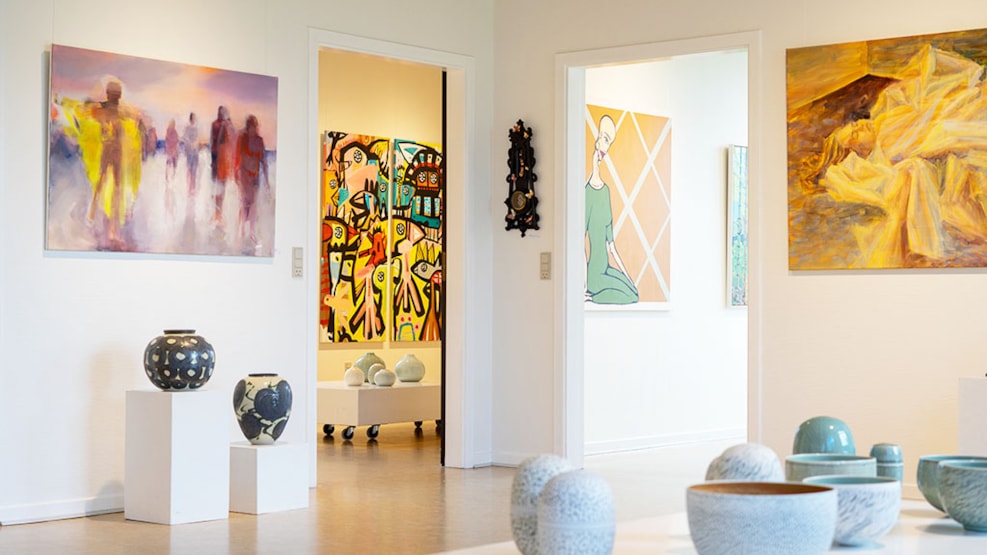 Art in Nowhuset
Gallery Nowhuset in Tullebølle exhibits paintings, drawings, graphics, sculptures and ceramics
The summer exhibition
In the gallery, the highlight of the year is the Summer Exhibition, where about 30 Langeland artists and artisans select and show the best of this year's production in the large, bright rooms - painting, watercolor, graphics, ceramics, sculpture and photography.
Opening hours
4th June-27th August
27. May: 14-17
28.29. May: 10-17
June: Thursday-Saturday at 10-17
July and August: Every day at 10-17
EXHIBITORS 2023:
ALFIO BONANNO, ANN-KERSTINA NIELSEN, BO VALENTIN, BRITT SMELVÆR, GITTE BUCH, HANNE BIBEN MORTENSEN, HANS KJÆR, HENNI STARUP, HENRIETTE LORENTZ, JOHN RASMUSSEN, JØRGEN THERKILDSEN, KAMILLA HERSKIND, KERAMIK OG VÆV, KELD NIELSEN, LARS CALMAR, LAUGE VOIGT, LINEA HANSEN, LINE KURE, LOTTE ENGELBRECKT, MARIE WÖLDIKE, MOGENS SJØGÅRD, PER BUK, POTTERIET, POUL ERIK ELIASEN, SOLVEIG MOA, SILJE BRUUN, STINE LÆNTVER, SONJA MØLLER.