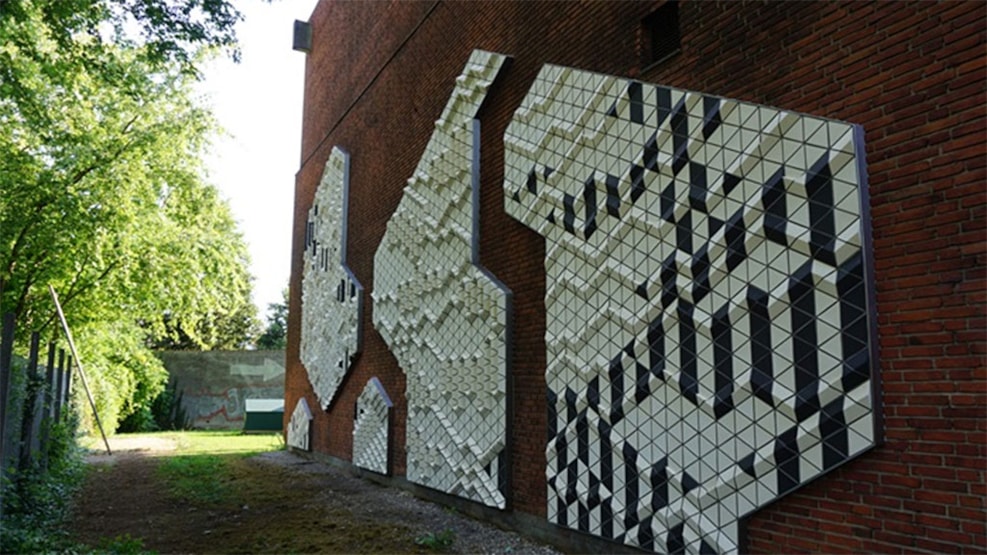 Artistic Climbing Wall
If you walk behind the Albani Breweries down towards Odense River, you will discover a cosy little green area,  where you will find the Artistic Climbing Wall.
In 2016, the climbing wall became a reality thanks to the construction of a footbridge over the river. Ceramic and product designer Jacob Skov artist behind the wall. He got the idea from his own passion for climbing both in nature and in cities. The art project combines aesthetics and physical activity and adds an extra spice to the urban space.
The inspiration came from the Dutch artist M.C. Escher, who inspired Jacob Skov to use equilateral triangles.
Textile designer Maria Kirk Mikkelsen was responsible for creating the stunning patterns on the climbing wall. She was inspired by water and rock. Looking at the wall from a distance, you can enjoy the fun shapes and black and white patterns. But, the closer you get, you can see the pattern of shadows on the white background. The design of the wall was made in collaboration with local climbing and bouldering clubs to ensure that the wall could also be used for climbing.
The climbing wall is built from triangular tiles made of fired stoneware. It has a relief effect reminiscent of the more classic ceramic wall decorations. The tiles are black and sand-coloured, creating a clear contrast to the red brick wall. There are eight different types of tiles on the wall and four of them function as climbing holds. The climbing wall itself is composed of five different wall elements.
The artistic climbing wall has two purposes: artistic expression and active fulfilment. It helps to create a cosy breathing space by the river, but at the same time it is also a place where you can play and get active by climbing on it.
If you want to give the wall a try, it's recommended to start from the right and move to the left to gradually increase the challenge. Climbing the wall is actually called bouldering as it is done without a rope.
If you reach the top, which is about four metres up, you can get a great view of the Odense River.
There is, of course, a fall surface at the climbing wall.
In addition to the climbing wall, you can also find a small playground, as well as tables and benches so you can relax after a trip to the top of the Artistic Climbing Wall.