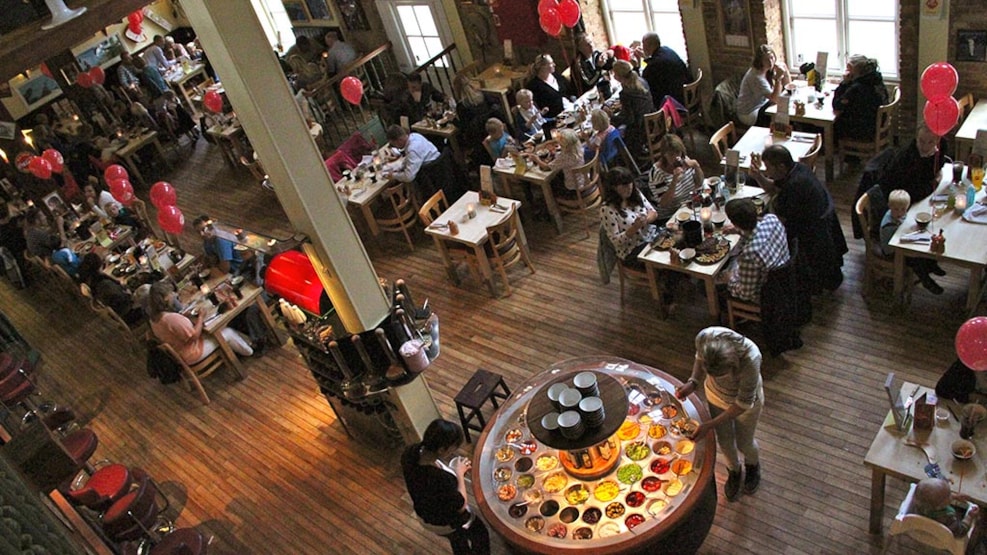 Bone's Odense - barbecue and spareribs
At Bone's in Odense, you get a top-class American dining experience. Here you can enjoy tender spareribs, delicious side dishes, and much more in the American atmosphere.
Restaurant concept
At Restaurant Bone's in Odense, you get the whole American dining experience when you and the family go out to eat. Bone's is a restaurant for the whole family, serving classic American dishes. The menu consists of tender spareribs, juicy steaks, and delicious side dishes, exactly what you expect from a BBQ restaurant like Bone's. The restaurant is a family restaurant, which also means that the restaurant has good facilities for children. This way, the adults can have a good chat after dinner while the kids play and have fun.
Menu
During weekdays, Restaurant Bone's is open for an evening menu, while on weekends it is also open for a lunch menu. If you want to eat at Bone's in the evening, you can choose from various main courses, such as spareribs and multiple steaks, burgers, salads, and side orders. You can also get four different kinds of sauce and various dips. Of course, there is also something for the kids, such as crispy chicken, mac & cheese, burgers, and much more. When you are done with the main course, you can go to the soft serve ice cream bar or order a delicious cheesecake. Because at Bone's in Odense, there is something for everyone!
Take away and early birdy
Restaurant Bone's in Odense is one of the best places in Odense to get take away from. Here you can order the steaks, fries, or anything else you want, and then take it home or take it out into the beautiful city of Odense. As Bone's in Odense is centrally located, you can take your food to one of the beautiful parks or wherever you want to sit and enjoy your meal. In addition, Bone's also offers Early Birdy discounts, where you get 15 percent off your order if you eat early at the restaurant. This means between 4.30 pm and 7 pm - so you get a delicious meal at a discount, then the rest of the evening can be spent with family or friends.