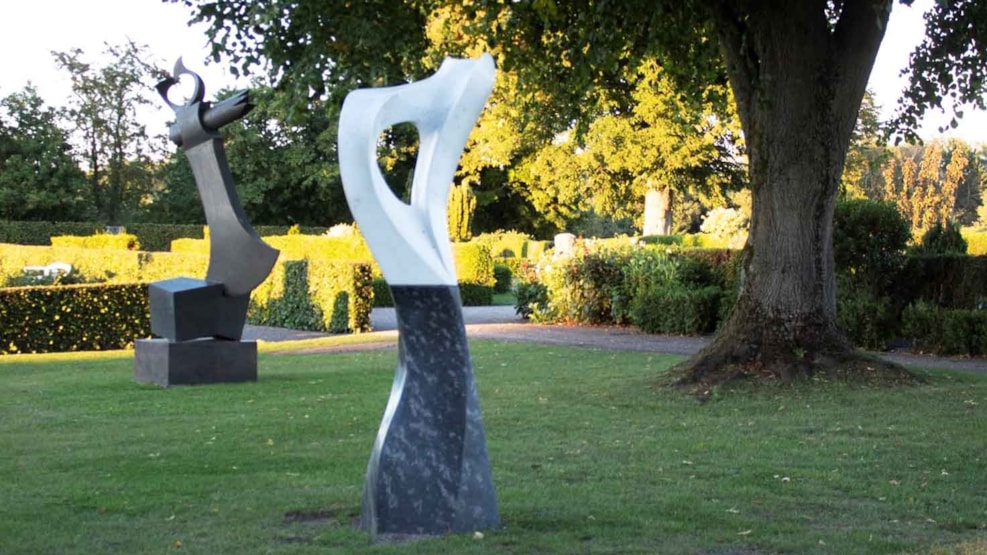 The Bronze Ax and the Angelic Being in Otterup
The elegant sculptures by sculptor Kent Holm on the churchyard in Otterup tell about grief and pain over death -but also about hope and vitality.
The two sculptures the Bronze Ax and the Angel Being were donated to Otterup Cemetery in 2019.

Renowned visual artist Kent Holm created the sculpture The Bronze Ax, which splits the granite stone, when his daughter Louise died at a very young age in a traffic accident. He would not sell the work as it had such great personal significance and symbolic meaning for him.

Kent Holm died in 2018, and after his death, his widow and other daughter decided to donate the two sculptures to the church. Kent Holm and his daughter Louise are both buried in the cemetery, and their beautiful burial sites are located between the church and the sculptures.

Kent Holm was born in 1939 and was educated at Studio D'arte Corsanini, Carrara, in Tuscany. He worked in iron, steel, granite, marble and bronze. He was one of Funen's most recognized sculptors and has exhibited both in Denmark and internationally.