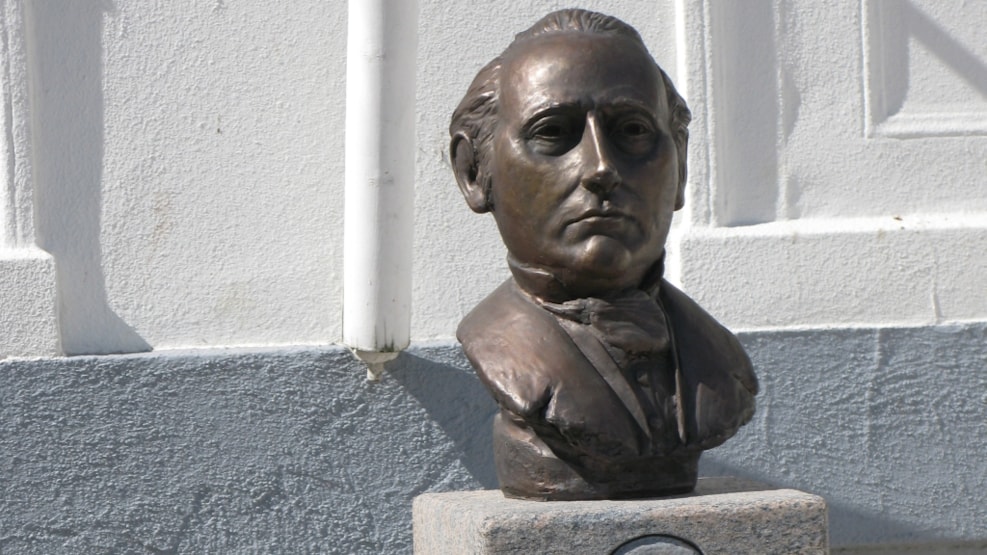 Bust of Mads Lange, Lars Calmar
A bust of Mads Lange, known as "the King of Bali", created by Lars Calmar.
Mads Lange
Artist: Lars Calmar
Erected: 2007
The King of Bali
Mads Lange (1807 - 1856) was born in a house on Østergade in Rudkøbing. He later became to be known as "The King of Bali" when, after he went to sea as a 17 year old, he ended up settling on this Indonesian Island where he both worked as a traders and acted as a peacemaker between the Balinese and the Dutch.
About the artwork
Three examples of this bust of Mads Lange were cast in bronze to mark the 200th anniversary of his birth. The bust was commissioned, and paid for, by Jens Olesen, a distant relative of Lange. The two other busts can be found in Langeland's Museum and on Mads Langes grave in Bali.
The bust was created by the Langeland artist Lars Calmar, but is somewhat atypical of Calmar's usual work. His sculptures and works on paper are often depictions of the naked human body sculpted by the sands of time. Sags, wrinkles and age are addressed with both humour and respect. Calmar's works provoke and ask questions about our understanding of what makes a human body beautiful and on beauty in general.
Recently Lars Calmar's work has taken a new direction, and he has been concentrating on depicting figures with small, fat, naked bodies and huge baby-like heads. Until 2025 you can see an example of this work at Kunsttårn 9 (Art Tower No. 9) on Haugbøllevej. Here the exhibit 'Elsket' (Loved) went on show in May 2022. Here Calmar presents a large, blue ballpoint pen drawing of a small, fat, naked man with long hair and angel wings. Above him is written the word "ELSKET" (Loved) in gold lettering.
Langeland's Art Towers are Denmark's longest art exhibition. You can read more about the project here.
See also
The statue of H.C.Ørsted on Gåsetorvet, you can read more about the statue here.