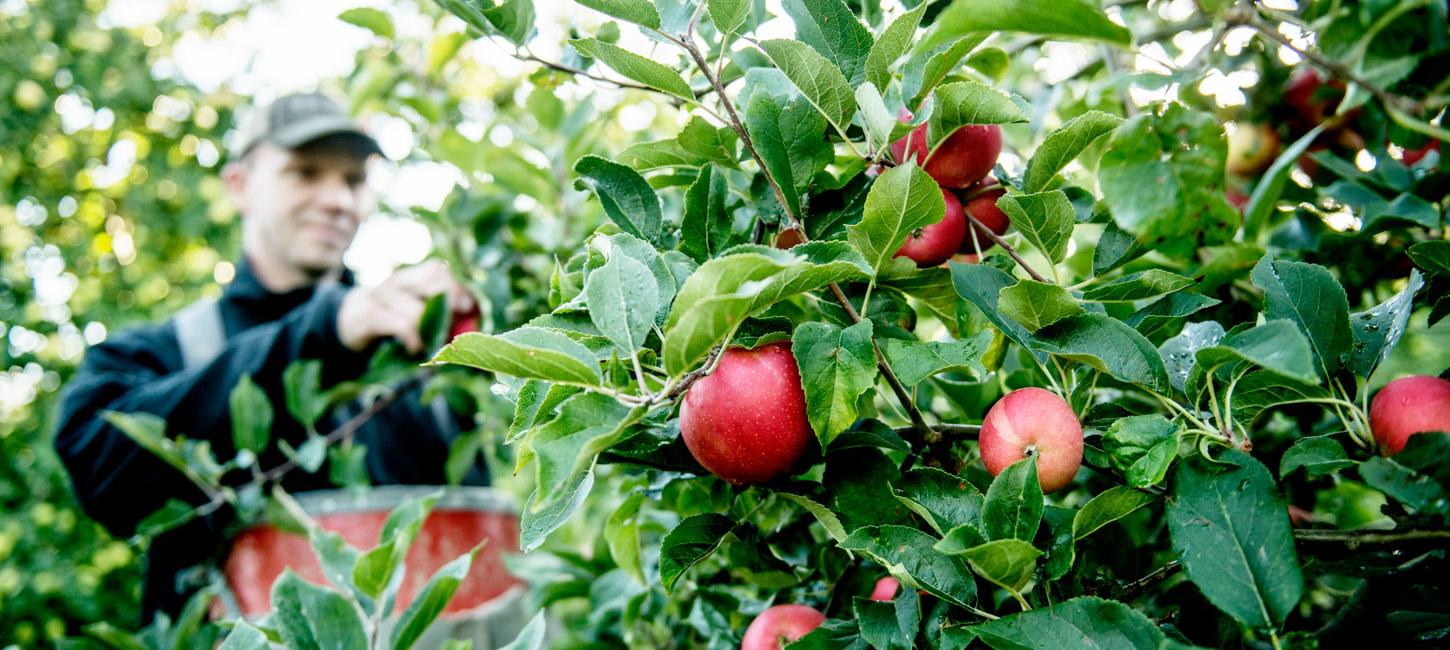 Culinary hike on Langeland
The Archipelago boasts of culinary delights to suit all tastes – close to the Archipelago Trail, too. For example, call in at Strandlyst Fruit Plantation on your hiking trip. See the plantation and taste the delicious products.
Directions
Start from the beautiful Tranekær Castle, which dates back to the 1200s according to a number of sources. Back then it was a strongly fortified castle, located on a steep hill and protected by a moat and drawbridge. As one of the best-preserved castle towns in Denmark, Tranekær itself is well worth a visit, too. All kinds of activities are held at Tranekær Castle today, including guided tours of the magnificent buildings.
From the castle, walk east along the Archipelago Trail. After around 3 km you will reach the coast. From here, the Archipelago Trails continues approx. 6.5 km southwards – following a truly delightful stretch of coastline – in the direction of Spodsbjerg. Just before reaching Spodsbjerg, however, the trail turns inland towards Rudkøbing. After 5 km or so, you will arrive in Tullebølle where you can stock up on refreshments and take a break to enjoy an invigorating cup of coffee.
From Tullebølle, you have around 8.5 km to go to Rudkøbing and for the last 2 km of this stretch, the Archipelago Trail follows the coast, leading you past a series of delightfully scented fruit plantations. It is also in this area that you will come across Strandlyst Frugtplantage (Fruit Plantation). To get there, you will have to leave the Archipelago Trail at Rifbjerg. Where the trail bends to the right, turn left, pass through Rifbjerg and continue along Rifbjergvej.
A short distance along this road, turn right onto Strandvejen (at the crossroads). Less than 500 metres along this road you will come to Peløkkevej on your left-hand side. Follow this road to number nine and you have reached Strandlyst Frugtplantage – a South-Fyn symphony of taste you owe it to yourself to enjoy!
When you visit Strandlyst Frugtplantage near Rudkøbing, you can take a guided tour of the facility and taste both deliciously crisp apples and freshly pressed apple juice.
Crisp apples and fresh juice
Kristoffer Lollesgaard represents the seventh generation of the same family to run Strandlyst Frugtplantage, where the business of cultivating fruit is traditionally handed down from father to son. The plantation grows more than 15 types of crisp apples, as well as pears, sweet cherries and impressive amounts of plums. It also produces fresh apple juice, made from its own apples.
The climate on the island of Langeland is ideal for fruit trees, and this particular establishment is located right next to the Langeland Channel. The flavour of the fruit is therefore affected by the local weather conditions such as sea fog, the warmth of the sun and the salty air blowing off the channel. Kristoffer Lollesgaard is happy to welcome visitors to the plantation, hosting guided tours of the facility, and talking about the different fruits, cultivation methods and modern aspects of fruit farming such as 'apple trends' and 'concept apples'.
In addition to growing apples, Strandlyst is a major producer of apple juice. Once again, the plantation works with different taste compositions that are peculiar to production on Langeland. Simply put, apple juice is not 'just apple juice'.
Take a guided tour, sample produce from the plantation, and buy items from the farm shop, which sells delicious treats that change with the seasons. Fresh fruit is on sale in the shop from 10 July through 1 April.
Visits and guided tours by arrangement – contact Kristoffer Lollesgaard, Strandlyst Frugtplantage, Peløkkevej 9, Rudkøbing, on +45 23 49 12 76.