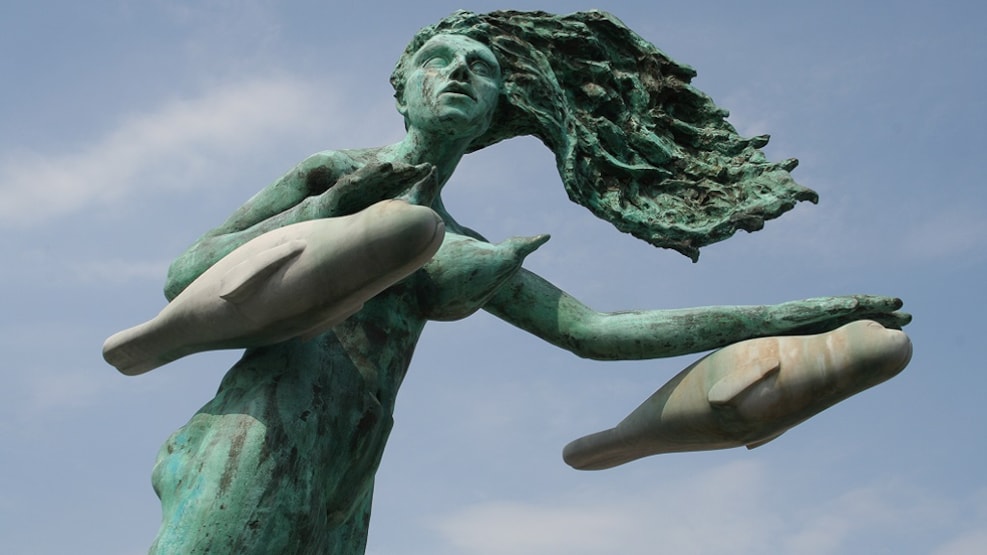 Elle in Bogense
At the far end the Western Pier at Bogense Marina, the mermaid Elle welcomes everyone to Bogense, the town of mermaids - do you dare to go out and greet her too?
Elle the mermaid greets all the sailors who come to Bogense.

Once upon a time, people used to say that the mermaids would play in the sea off of Bogense. Sometimes, they swam into town via the town brook. Today, Elle stands at the outermost point of the pier and looks at the sea - and perhaps she can see her mermaid friends.
A tall and strong lady
The statue shows the beautiful mermaid riding the wave while supporting her arms on two seals. The sculpture is a 2.5 metres tall bronze figure. It weighs 209 kilo. The seals are made of light Carrara marble, and each weighs 30 kilo.

The statue was created by the artist Poul R. Weile from Odense. The mermaid was donated to the city of Bogense by Nordfyns Bank for the bank's centenary.
Elle originally stood in Bogense old Harbour on the small square at the very bottom of the harbour entrance. But she missed the sea ... So now she stands overlooking her beloved Kattegat.