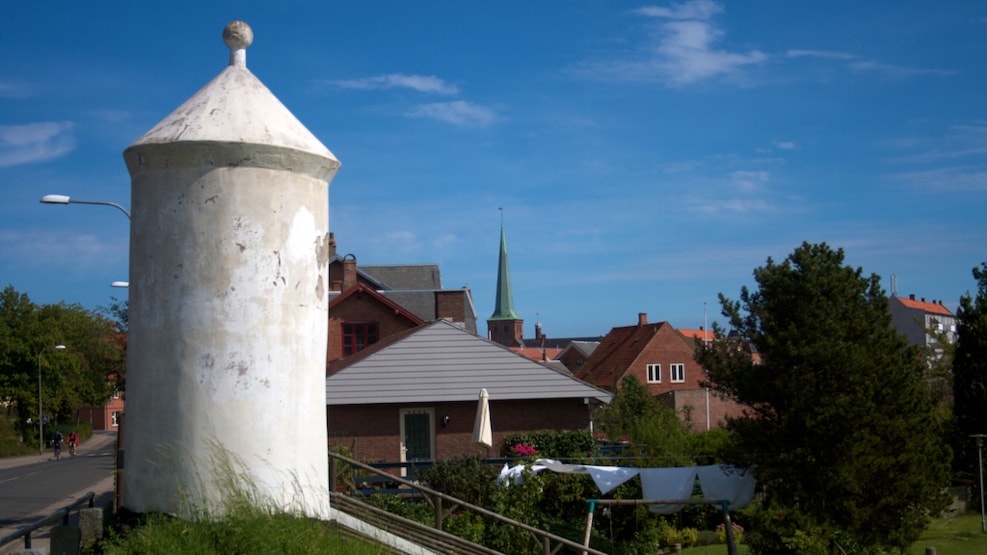 The Embankment and the "White Virgin" in Nyborg
25 The Embankment and the "White Virgin"


The King's Bastion originally faced Nyborg Fjord. From its site the moat water could flow into the fjord, in which case the moat would run dry and could then be forced by an enemy. Moreover, such a situation would also affect the town's water supply; nor could the mill function without water. To avoid such a predicament, an embankment was raised across the moat. This was a sort of dam made of large stones and bricks. Its top was very narrow and covered with a small gable roof to prevent movement along it. It was, moreover, closed off by a bricked-in tower placed in the middle of the embankment, so that it could not be crossed by foot.
In Nyborg's case this structure was called the "White Virgin" – it was whitewashed to facilitate observation of anyone trying to force the embankment. Because of decay and danger of subsidence large amounts of earth were piled onto the inner side of the embankment, and in time these formed a causeway which could be crossed. The "White Virgin" thus ceased to be a hindering, but was fortunately preserved. It stands today on the street called Kongens Bastionsvej, which is situated over the above-mentioned causeway.
The "White Virgin" is the only extant tower of its kind in Denmark. A curious legend is attached to the "White Virgin". The name refers to Rigborg Brockenhuus, who bore an "illicit" child, and to punish her her father, the Lord-Lieutenant of Nyborg Castle, had her "walled in". Local folklore places her tomb in the "White Virgin"!
It is key to understanding the appearance and layout of Nyborg. As far back as the Middle Ages, water was dammed here so that it could be channelled around the castle and the town. The medieval dam is under the water, a little way inside the moat, which is the remains of the old castle lake.