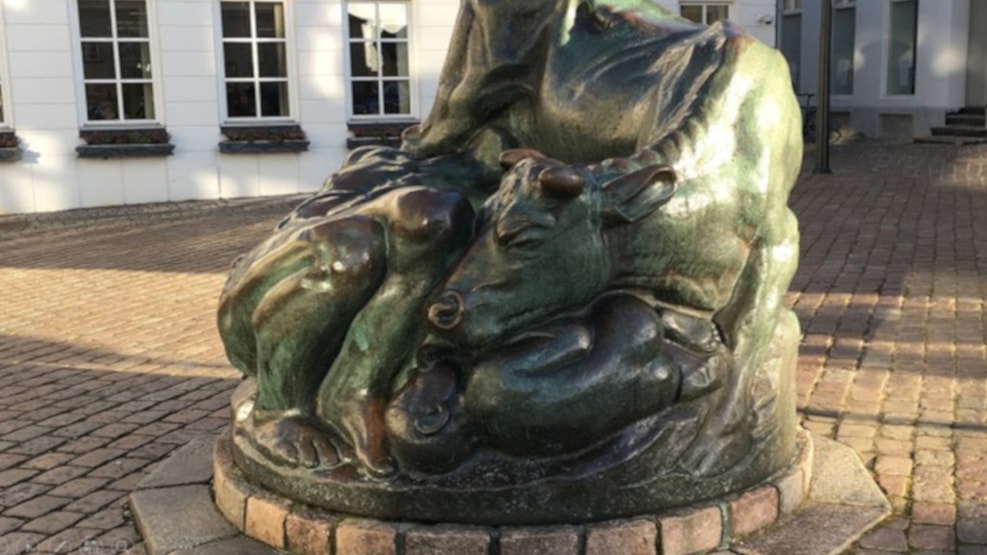 Faaborg - a Town of Artists
Follow in the artist' footsteps as you visit various locations closely connected to the artists' colony.
Konservesgården ('the Cannery Yard') - the factory complex which encompassed the canning facility, Mads Rasmussen's private home and the ferst setting of the Museum (1910) Adresse: Østergade 45

Faaborg Museum - Designed by the architect Carl Petersen (1915) Adresse: Grønnegade 75

Kai Nielsen's famous Ymer Well (1913) - Founded by Mads Rasmussen. Bronze Copy (the sandstone original is at Faaborg Museum. Adresse: Torvet

Mesterhuset (The Master's house) - Peter Hansen and Anna Syberg's childhood home and the place where the artist's colony originated. Workshop and home of master painter Syrak Hansen, father of the artists. A central rallying place for the artists of Funen and the hub of the establishment of the artist's colony in the 1880s.
From 1916 to 1928, Peter hansen's studio was located in the rear builden at the Master's House. Adresse: Lagonis Minde 7

The graves of Mads and Christine Rasmussen - Designed by architects Carl Petersen and Kaare Klint. Poem dedicated to Mads Rasmussen by the prominent Danish writer Johannes V. Jensen.
The wall along the graveyard was designed by architect Carl Petersen. Adresse: Ny Assistens Kirkegård, Østerbrogade 56 A

The graves of Anna Syberg, Jens Birkholm and Peter Hansen. Adresse: Gammel Assistens Kirkegård, Østerbrogade 20 A

The pictoresque landscapes of Svanninge offer plenty of opportunities to explore the scenes depicted by the Funen Painters.