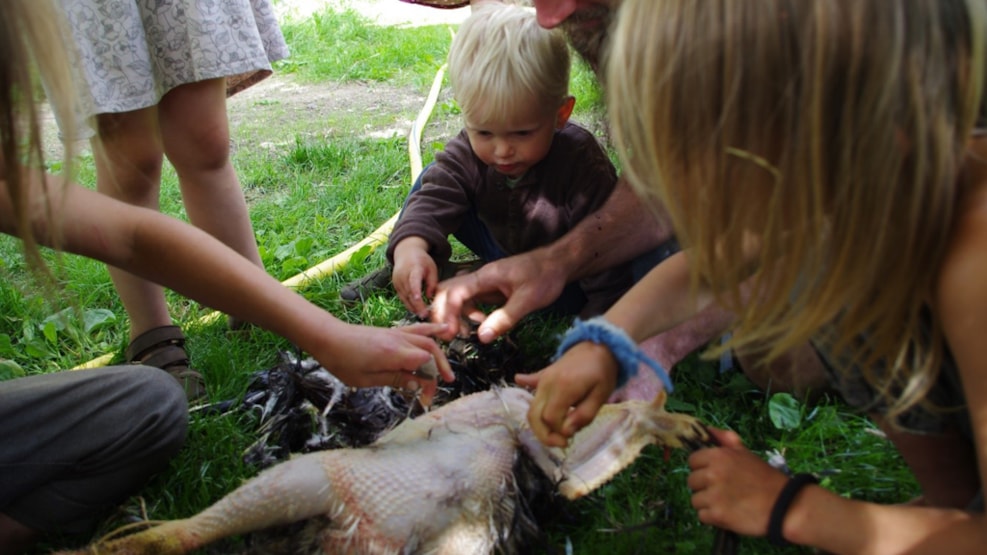 Fødegården Stenbjerglykke
Teambuilding for the whole family on Fødegården
Come to us and be a part of the life on the farm with our family for a week 
We will take care of the structure of the day so you can enjoy gadget-free quality time with your family, nature and the different tasks we will guide you through during the day. 
You will learn about: Fermentation of grains, vegetables and beverages, baking of ryebread, edible plants in nature, and nourishing cooking; - while preparing the big meal of the day together in our kitchen.
Furthermore, depending on interests, you and your family can learn more about i.e.: Home education, family structure and rythm, sewing everyday-clothes by intuition, making wooden toys, mowing with scythes, nourishing cooking, cheesemaking, caring for nature and soil in farming, keeping farm-animals, natures rhythms and different hand crafts. 
How it works
On the farm there is a nice house where two families will be hosted. Here we will prepare and eat our meals together - (when not outside) and here we will do rainy day-activities. 
The activities during the day will be planned to give the families great experiences and knowledge of different sides of farm-life. The families will wake up, eat, and do activities with us. 
 Our special farm-diet
Organic food of the greatest possible quality is crucial to living an active life without mood swings and conflicts. That is why food is in focus the whole week and we will prepare the meals together from local, organic products. We eat almost everything of nutritional quality and will give a good introduction to our farm-diet. 
Contact us for further information or visit our website www.stenbjerglykke.dk