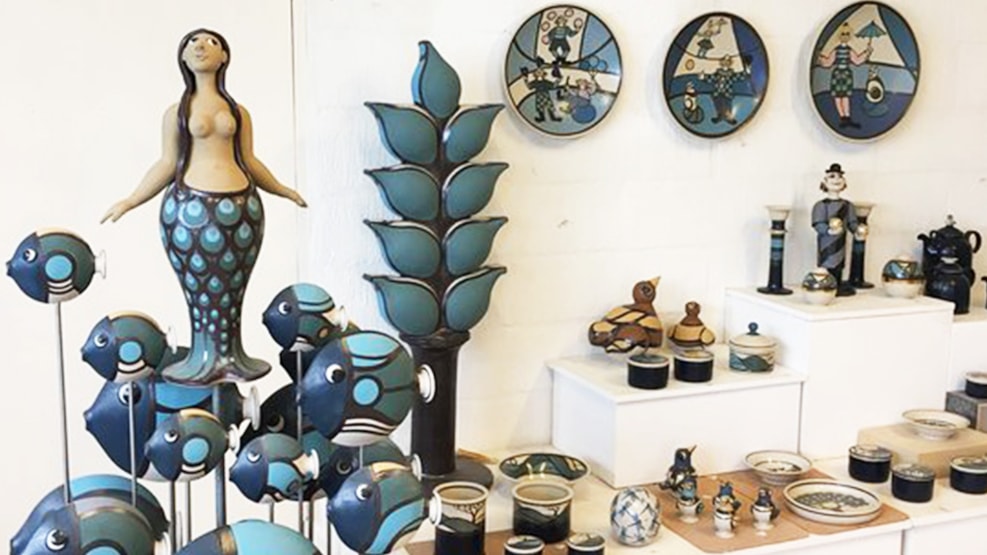 Heerwagen Ceramics
Karin and Erling Heerwagen are known around the world for their imaginative ceramics
A fantasy universe
Far up north, nearly as far as Hou, a charming little sign opposite Hou School points the way to Heerwagen Ceramics. Here, over many years, Karin and Erling Heerwagen have created their own artistic universe full of fantastic figures, which over time have become iconic symbols for Langeland and Langeland's handicrafts.
The Heerwagens met when Erling, a trained potter was working for Bjørn Wiinblad turing pots, and Karin was employed as a substitute at the same establishment. She was a ceramics graduate from the School of Arts and Crafts.
In 1964 they moved to Hou. A house, in which they once visited old friends, now became their home and workshop.
Now a couple, artists Karin and Erling Heerwagen's ceramics not only became known nationally, but also internationally. Their mugs, teapots, bowls, egg cups and lidded jars where sold to customers all over the world from the arts and craft gallery Den Permanente on Vesterport in Copenhagen. When the gallery closed in 1981, the Heerwagens opened a shop at their home in Hou, which is still opens at Easter and on selected Saturdays during the summer months.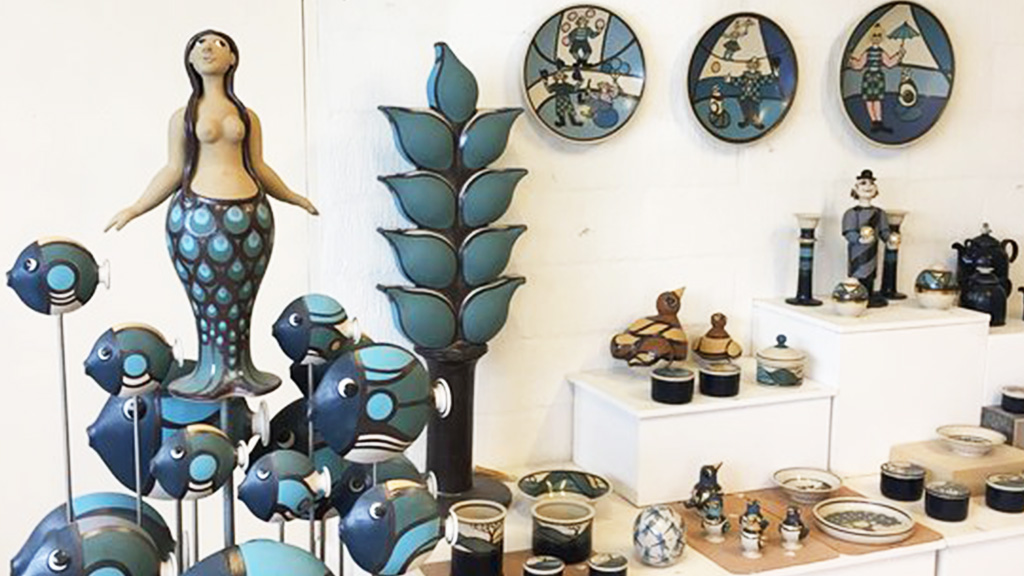 Unaffected by passing trends
Regardless whether the latest trend dictated that ceramics should be pastel-coloured or in natural shades of clay, strictly minimalistic or with baroque flourishes, the Heerwagens stuck to their simple naive style, characterised by their use or rounded forms. Perhaps it is their ceramic birds that have become their signature creation, or perhaps the painted motifs inspired by the trees, birds and hills of Langeland such as their voluptuous women with breast that echo the shape of Langeland's famous "hat hills".