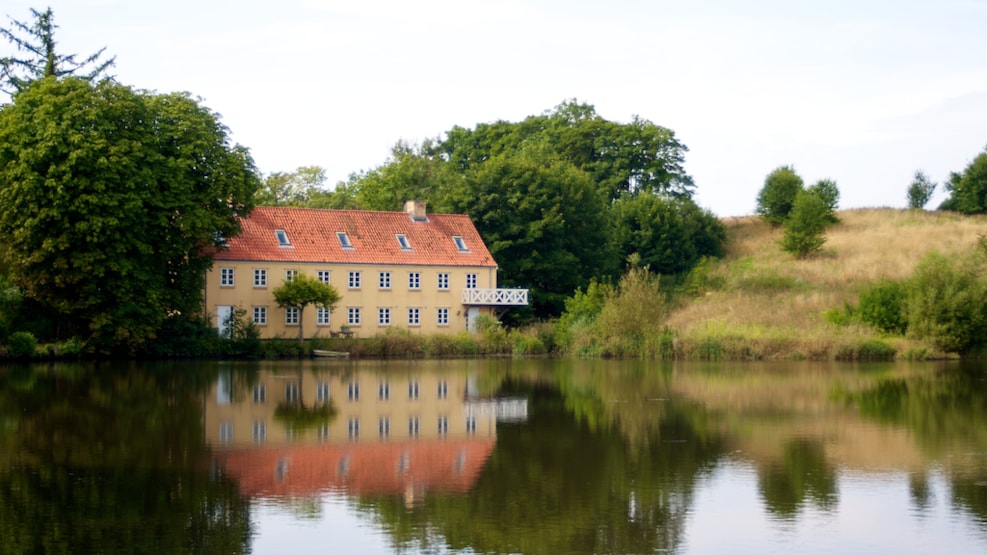 Kongshøj Mill (150 m)
Kongshøj Mølle Mill is one of the most picturesque places in East Funen. The mill is reflected in the lake, surrounded by beautiful yellow fields of rape. If you're lucky, you'll see the yellow rowing boat bobbing gently on the lake.
Kongshøj Mill was built as part of Glorup Manor in around 1850. A water-powered hammer works manufactured farming implements, and grain was ground at the mill. There was also a turner's workshop and a bakery on the site. Kongshøj Mill soon developed into a large company employing up to 30 people. The works provided employment for many of the inhabitants of the parish of Frørup. The milling continued until after the Second World War. A turbine generated electricity and operated until 1962. The turbine was later renovated, the generation of electricity was resumed in 1979 and it is still running to this day. The mill pond and waterfall still exist.
The weir caused the damming of the river at a height of seven metres, the highest on Funen. This prevented the free passage of fish and fauna, and in 1998, a 650-metre-long bypass stream with resting basins was established for the fish swimming upstream. The white throated dipper, the kingfisher and the grey wagtail can be seen downstream in the winter; the two latter birds regularly breed along Kongshøj Å river. The area around the river has provided an ideal habitat for people since the Mesolithic Age, some 4,000 years ago. They could fish in the river and hunt in the fertile areas along it.
There is a car park by the millpond and a public green area with tables and benches, where you can sit in the shade and enjoy your picnic whilst taking in the scenery and the view of the lake.
The mill is privately owned and is not open to the public.