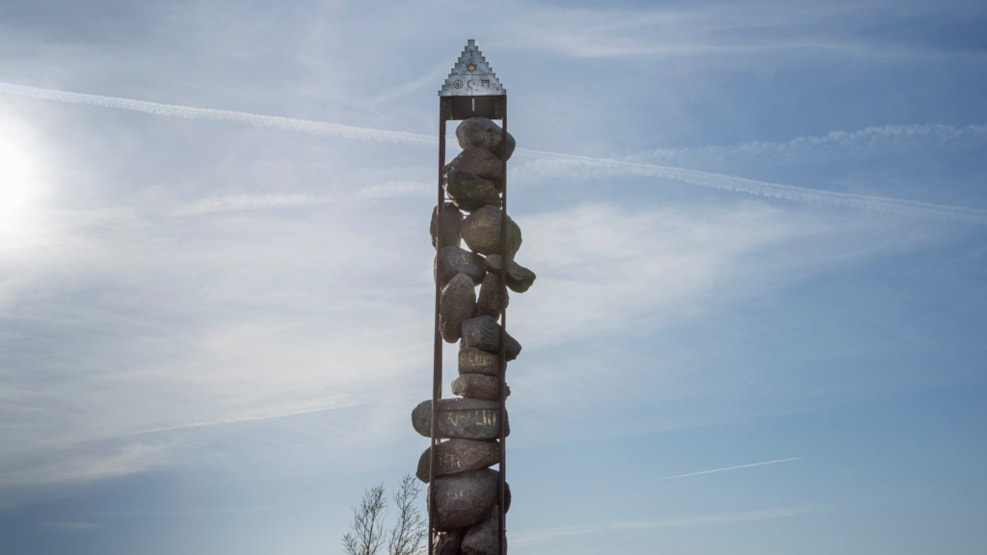 "Legend tower", Sabine Majus
Inspired by the Langland folk tale of the "The Sea Stone and the Sorceress", Sabine Majus has created a towering sculpture, inspired by the shape of a church tower.
"Legend Tower"
Artist: Sabine Majus
Erected: 2012
The Søstenen (The Sea Stone) Tower Sculpture
Inspired by a local folk tale about a sorceress, Sabine Majus has created a towering sculpture that is based on the shape of a church tower. The sculpture consists of a tall metal 'cage' filled with field stones. The sculpture is topped by a jagged, pyramid like, copper roof which is decorated with symbols representing many different religions. The sculpture was erected to mark the occasion of "The Culture Caravan" (an initiative of the South Denmark Regional Council) holding a Poetry Slam event at "Søstenen". At this event participants were asked to contribute words that came to them when "thinking like a stone". A selection of these words have been written onto the sculpture.
The sculpture has been placed so that it faces the church on Strynø.
The Sea Stone
The Sea Stone is the largest stone on Langeland. According to local legend it came here from Lolland where, at the time Strynø Church was built, there lived a sorceress. She could not abide the sound of the church bells, so full of rage she picked up the huge stone and hurled it at the church, hoping to flatten it. However her strength failed her and the stone fell short of its target, where it still lies today.
Another folk belief tells us that there is a cave under the stone from which storks collect babies before flying off bring them to expectant parents. Read more about the Sea Stone here.
Think/Talk…
About the words of the sculpture: "stærk" (strong), "stædig" (stubborn), "sten" (stone), "kold" (cold). "kælling" (hag), "kold" (cold) and "kærlig" (loving). If you were to think like a stone, what would your words be"…. "I AM THE STONE"
Sabine Majus
A common theme of Sabine Majus' work is how different materials interact with each other. She loves to work with contrasts in both her jewellery and sculptures, combines metals, enamel and precious stones with natural materials such as wood, pebbles form the beach and swan bones. You can red more about Sabine Majus here.
Did you know…?
You can visit Sabine Majus in her goldsmith's workshop at Torvet 5, ground floor to the left, 5900 Rudkøbing.