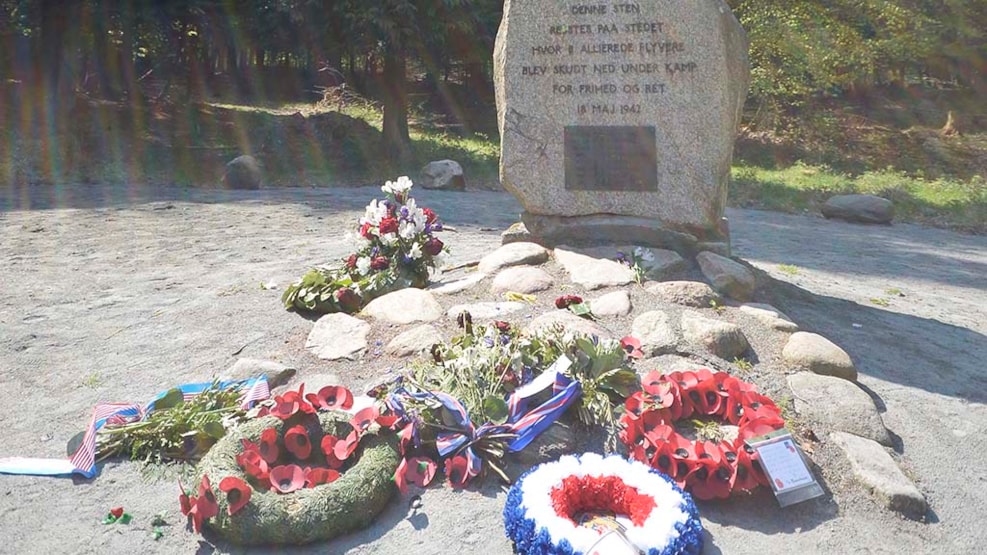 The Memorial Grove
On the 18th of May 1942, the Stirling bomber "MacRobert's Reply" crashed at this place in Gals Klint Forest. The bomber, flown by XV Squadron Royal Air Force had been mine laying over the Sound when it was hit by anti-aircraft defences made for England. Over The Little Belt Bridge the aircraft was hit by german anti-aircraft fire and it subsequently crashed. Only one man from the crew survived.
The name MacRobert
Lady Rachel MacRobert was the widow of Sir Alexander MacRobert who died in 1922. She lost all 3 of her sons in air crashes.
In June 1941, Lady MacRobert sent a £25.000 cheque to the Secretary of State for Air, with the request that the money be used to purchase a bomber for the Royal Air Force.
The Memorial Grove
On the 18th of May 1946, accountant Storgaard and the cityzens of Middelfart erected this monument in the Gals Klint Forest. On the 18th of May 1949, the Memorial Grove was opened. 
55 years after the crash of the aircraft Middelfart Municipality restored the monument and with the assistance of Beldringe History Centre, the XV Squadron Royal Air Force danoted the squadron emblem now decorated the memorial stone.
Read more at The Memorial Grove.