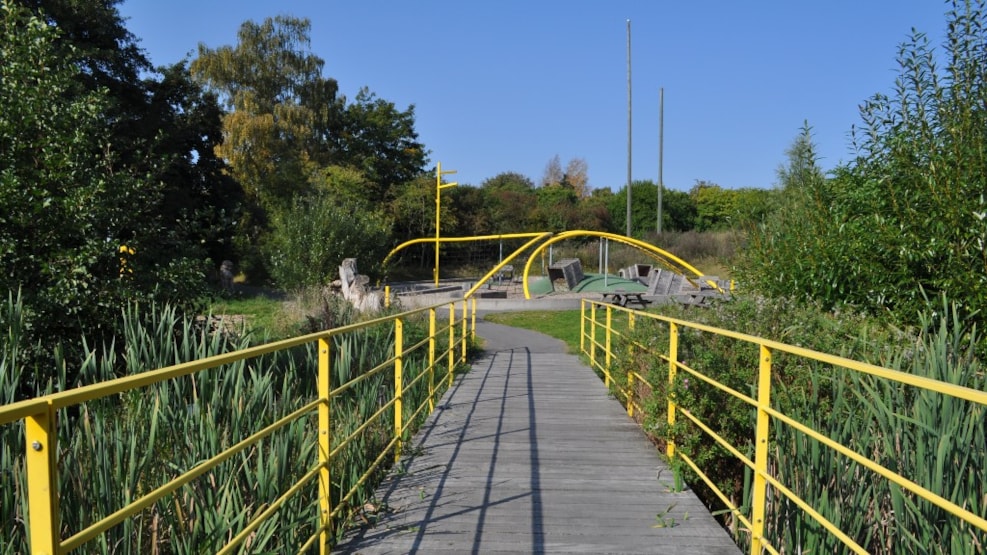 Munkebo Multipark
If you are inclined to a more active day, then Munkebo Multipark is the right place for you.
Munkebo Multipark is divided into 3 separate sections: Platform 1, 2, and 3. Each platform has its own subtitle. Platform 1 is for sport, 2 is for open air, and 3 is for play. 
Platform 1 – Sports.
Get your heartbeat up with a multitude of different street sports. Play football, street basketball, or various other ballgames at the multicourt. Or maybe practice your tricks on wheels on one of the many different skate and scooter facilities.
Platform 2 – open air
Explore the nature surrounding the area. Go on boardwalks around the lake, or settle down deep in the woods, where there is a campfire area and shelters that you can stay in overnight – if you dare! Here you will also be able to see the Sybergkvæg grassing in fields. But do not feed them.
Platform 3 – Play.
At the big playground area, there is rich opportunity to have a blast, both for kids and adults. There is rich opportunity for all ages. There is among other things a big swing area, where there are multiple different types of swings, various climbing nets and even a few hammocks, where you can rest after being active.
Exercise track.
Around the Multipark is a 1.6-kilometre-long paved path. Here is the opportunity for a nice little run, or maybe just a walk around the grounds. You can also bike along the path if that is more to your liking.