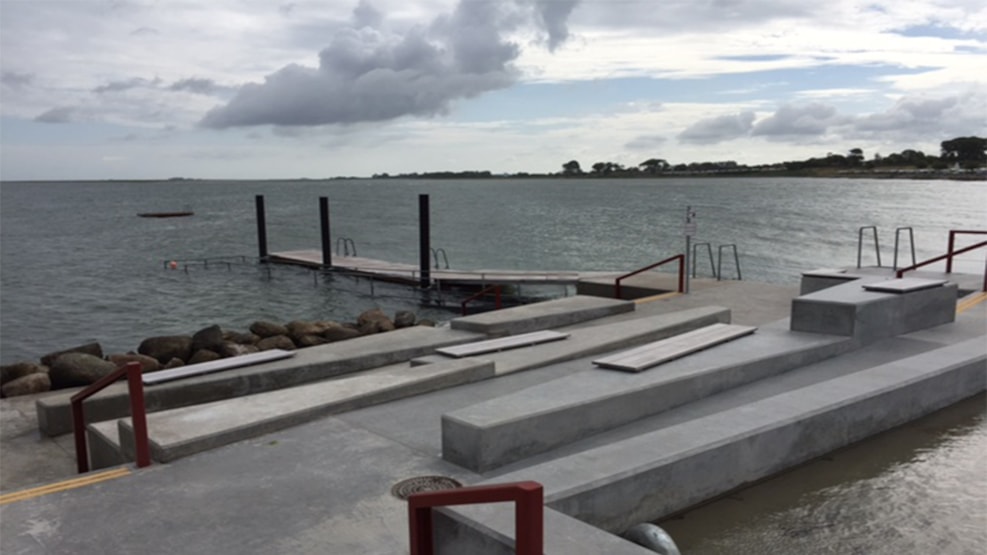 Ocean swimming lane near Bogense
At Bogense you can try the sport of swimming with real waves, salt water and fresh air - there is a sea swimming lane at Bogense Harbour!
Let's go for a swim in the ocean!
The ocean swimming lane offers you the chance to swim in the ocean and gives you an outstanding chance to swim between the buoys.
The ocean swimming lane measures 25 x 150 meter, which gives the course a length of 350 meters.
Dive into the water from the stairs og jump from the jetty. The ocean swimming lane is also accessible from a ramp, so everyone will be able to enjoy swimming. Furthermore, a beach wheelchair can be borrowed at the VisitNordfyn office at Vestre Havnevej 9B.
 In the water next to the swimming lane, there is a floating wooden raft.
On the pier, changing cabins are available for free.
If you would like to use the other facilities, such as the sauna and showers next to the ocean swimming lane, you can get a code at the VisitNordfyn office. After a good swim, there is a volleyball court in the sand on the pier.
If you need to relax, the little café Dampskibshuset offers the opportunity to buy something to eat or just a little snack. 
If you just want to enjoy a regular swim in the ocean, this is possible all year, but the buoys are removed in winter time.