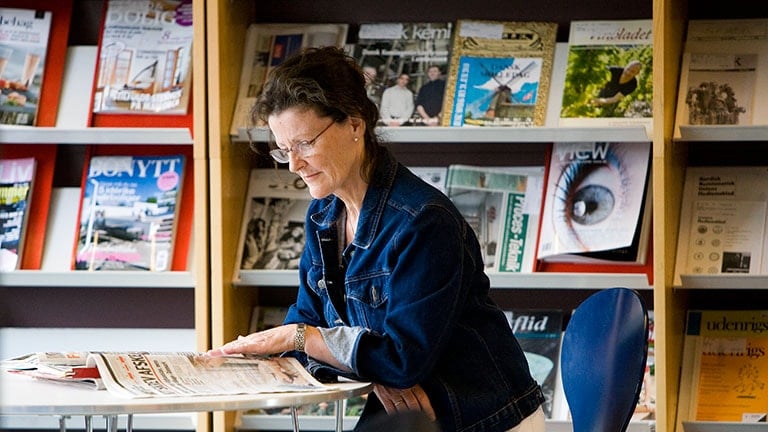 Odense Central Library
At Odense Central Library you can borrow books, take your children to the play area, and as a student, you can get help and sit in the study area and concentrate on your assignment. 
Odense's Main Library
Odense's most central library is located in Borgernes Hus in Odense Banegårdcenter. There is something here for the reading enthusiast, the young student, or the children. You will find the children's and youth section on the first floor, where there is cozy seating to immerse yourself in books and a play area for the little ones. In addition to the library itself, Odense Central Library is also part of Netbiblioteket, which includes eReolen. eReolen includes e-books, podcasts, and digital magazines. In addition to seating for students, the library also provides other good study facilities whether you need to search digitally, browse the shelves, write assignments, or something else. You can also rent or borrow rooms in the library should the need arise. There are more possibilities at Odense Central Library than you might think.
Other facilities
In addition to the library itself, you will also find computers, printers, and photocopiers, which you are free to use. The library also offers free Wi-Fi, a wide selection of magazines and newspapers, and daily newspapers from home and abroad. The library also offers a reading coach for those who want to immerse themselves and improve their reading skills, a literature consultant if you want to collaborate with the library on literature, and you can also book a librarian if you need help with literature research for an assignment.
Events at Odense Central Library
Odense Central Library hosts various events throughout the year. In the summer, for example, children can take part in reading challenges, go on an object-finding-hunt, come to a reading concert or go to various workshops. There is also something for adults, such as various lectures, theme clubs where you can join in on discussions on various novels, or debate events where the state of the world is discussed. So whether you are looking to borrow a book, have a fun day at the library with the kids, are a student, or just want to broaden your horizons with some of the library's many facilities, Odense Central Library is the place for you.