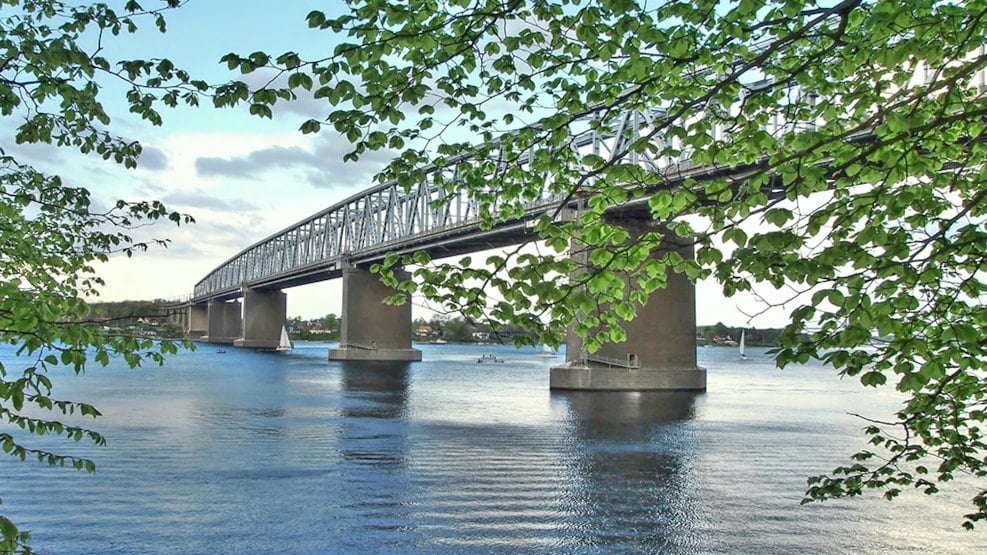 The Old Little Belt bridge
Go for a walk over The Old Lillebælt Bridge and enjoy the beautiful views over the town, strait and beech forest.
See Links section for map.
Facts
1,178 metres long
57 metres high
Price: DKK 32 million for the construction
Average height: 33 metres
Built: 1925 - 1935
Back in time
Way back in time, Lillebælt was once a meadow area. However, the strait was formed during the ice age, including the vertical 40-meter-deep clay wall, which today is very popular among divers.

Around the time of the First Schleswig War, the idea of making a tunnel under the strait was discussed, but it never happened. It was not until the 1880s, when a steel bridge was constructed on the Limfjord that there was any real interest in building a bridge connection over the Lillebælt. In 1899, a proposal was made in Parliament for a bridge connection between Middlefart and Fredericia. The proposal was rejected again due to the rapid development of steam ferries.

It was not until 1923, when there were infrastructural bottleneck problems in Strib, where the railway traffic to Fredericia sailed from, that plans for a double-track railway bridge finally came on the table.

With pressure from motor organisations, reportedly FDM, they managed to get roads included in the bridge planning, and the construction and restructuring of the railway network started in 1925.
The Old Lillebælt Bridge as tourist attraction
In 2015, Bridgewalking opened on The Old Lillebælt Bridge and it has become a major tourist attraction with thousands of visitors.
However, this is not the first time that The Old Lillebælt Bridge enjoyed success as a tourist site. This was also the case during its creation.
The construction site, which finished at the bridge's inauguration in 1935, became a major tourist attraction - one of largest in Denmark at that time. Shops, guesthouses, restaurants, etc. all set up business in Middelfart. A growth that results from such a major construction work.
There were boats with tourists that sailed from the harbour in Middelfart, who wanted to go and see the construction. Many nicknames were used in those days, and one of the boatmen was called "Blondematrosen", from the Danish word 'blonde' for lace, because his wife had a lingerie shop.
Opening
On 14 May 1935, (exactly 80 years before the inauguration of Bridgewalking) the bridge was opened with a royal visit. There were 50,000 visitors and the king came sailing by in the royal yacht "Dannebrog".

On the same day, DSB also inaugurated the first of their red high-speed trains, which ran over the bridge and cut through the red ribbon. There were 850 prominent guests in the train. They got on the train in Middelfart, which now had a new station that was built in connection with the restructuring of the railway network.

A convoy drove alongside the railway line on Brovejen, which was also established in connection with the bridge construction. There had been some controversy about whether traders would miss out on sales if the road was laid outside the town. So an extension of the main road was the solution, as it is still known today.

The 850 VIP guests held a large party in Fredericia in the evening, and that is how Lillebælt made its way onto the map of Denmark. And now Bridgewalking maintains this position.

Source: Middelfart - from ferry town to bridge town