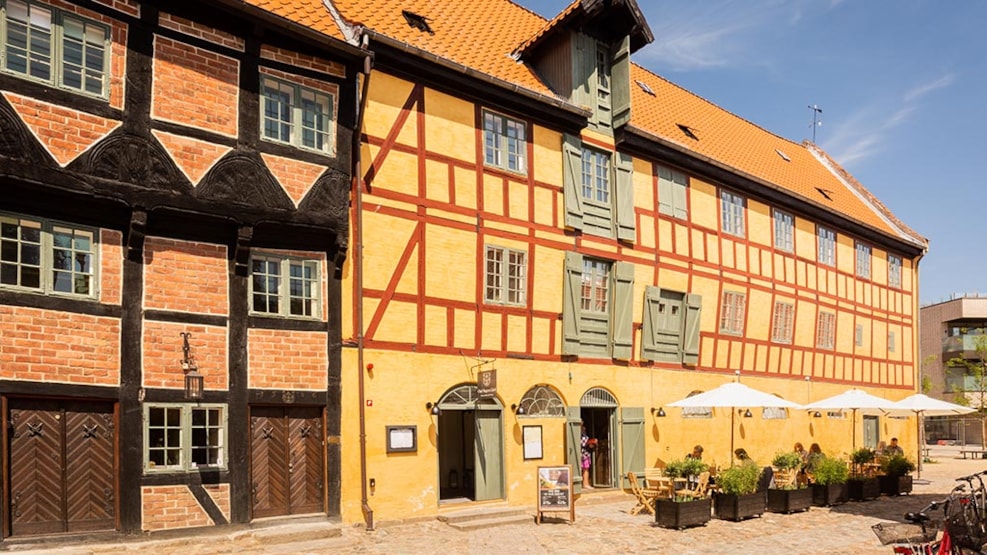 Oluf Bager's Gaard
Restaurant Oluf Bagers Gård, nestled in the heart of Odense, holds a rich historical significance as part of Oluf Bagers Mødrene Gård (Oluf Bager's Mother's Yard). Its origins can be traced back to 1586 when it was originally constructed by Oluf Nielsen Bager on top of the ruins of a building he had inherited from his mothers side of the family, hence the name. He was a prominent merchant in Odense, who ventured into the trading world from a young age. With access to a fleet, Oluf Nielsen Bager engaged in exporting grain and cattle while importing luxurious fabrics and other exquisite goods.
Over the centuries, the building has served various purposes, having been owned by nobility, merchants, and wholesalers. In 1772, Christian Gormsen Biering obtained permission to establish a printing press within the premises, and it marked the birth of the first edition of Fyens Stiftidende. Subsequently, a bookstore was opened, evolving into the province's first lending library. Additionally, the building has also housed a school at some point in its history.
In 2003, RealDania took ownership of the property and undertook a meticulous renovation, preserving the historical integrity of the structure. Presently, Restaurant Oluf Bagers Gård stands as one of Odense's most charming dining establishments, and since July 1, 2014, it has been operated by Hindsgavl Slot. The venue's warm ambiance and delectable offerings have made it a beloved spot among locals and visitors alike.