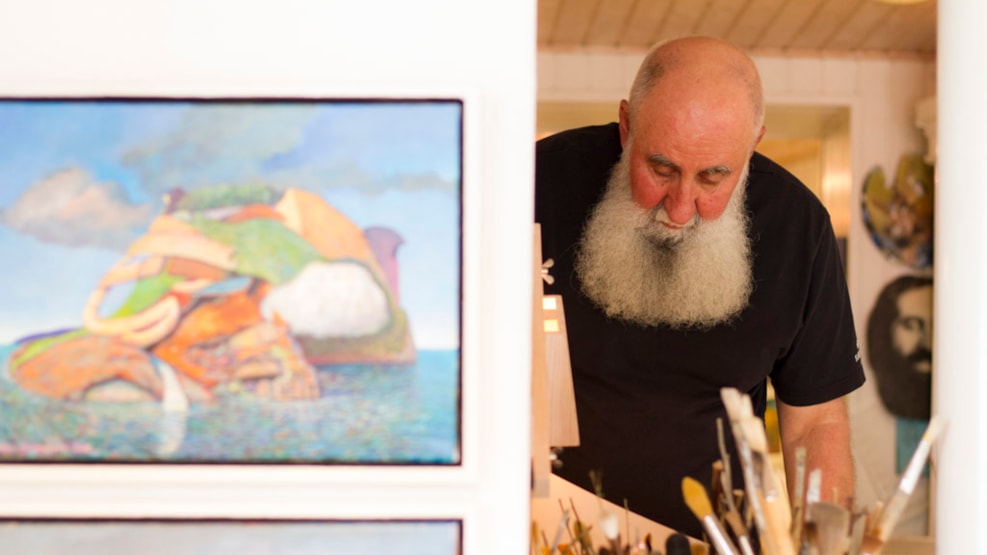 Østerport Brook, Alfio Bonanno
With a stream 9 meters long, huge boulders, polished granite stones and large reptiles, the Østerport Brook is an eye-catching work.
Østerport Brook
Artist: Alfio Bonanno
Created: 1987
About the work
With a stream 9 meters long, large boulders, polished granite stones, that rise 3 meters into the air and large reptiles cast in bronze, Østerport Brook is an eyecatching work of art. The artist who created this work is Alfio Bonanno, who has lived on Langeland since 1975. When the work was unvwiled Alfio stated that the work was made out of his love for Rudkøbing. It was commissioned by the Amtssparekassen Bank as a gift on the occasion of 700-year anniversary of Rudkøbing being granted the status of a market town.
With this work Alfio wanted to create a natural oasis in the town center, where the movement of the water in the stream makes a contrast with the static buildings that surround it. It is a recreational space, where you can take a break from the hustle and bustle of the town center. 

Between the large stones you can see two giant lizards, which have claws that look like fingers. The lizards, which are cast in bronze, are said to resemble the Komodo dragons that the Langeland author Vagn Lundbye met on the island of Komodo around the year 1980.
Bonanno and Lundbye
Alfio and Vagn Lundbye shared a love of animals and nature. Both have been active and important personalities in the cultural life of Langeland. They both found inspiration in each others company and often worked together.  
If you would like to learn more about Alfio Bonnanno, you can read more here.