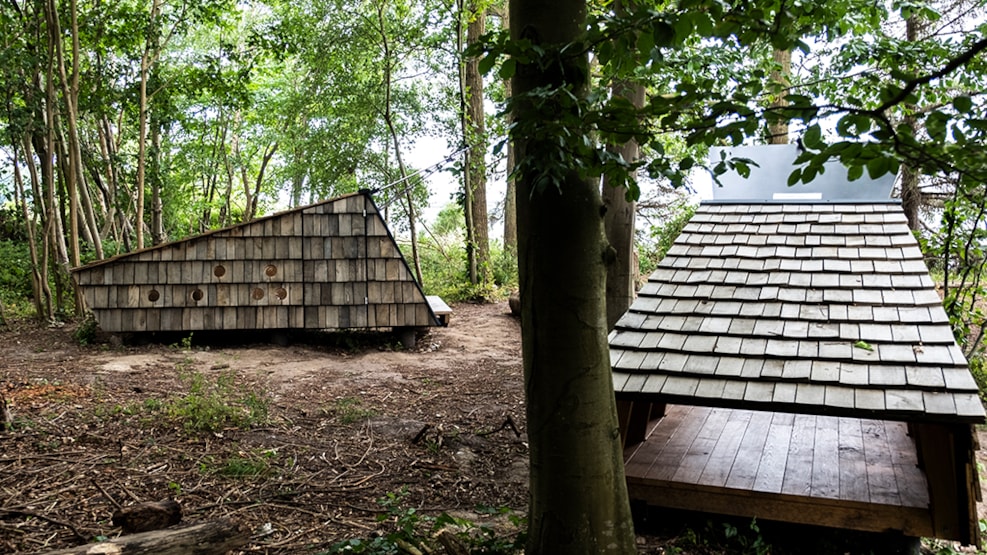 The Shelters at Slipshavn Plantation
Stay overnight close to town and on a Natura2000 reservation – where fjord and town converge
This convenient shelter site lies at Slipshavn, on the side of the Knudshoved peninsula facing Nyborg Fjord. Not far from the hustle and bustle of Nyborg and with breath-taking views over Nyborg Fjord to the south, this shelter site has everything close to hand. The shelter site nestles in a compact area of woodland locally known as "The Plantation", on the shores of the fjord. The site is close to a narrow beach where guests are welcome to bathe. Please note that the fjord bed is muddy. Within just a few kilometres you can find some of Funen's best beaches, including the island's broadest sandy beach. 
The shelter site has two architect-designed Flounder-type shelters. Each accommodates two people. There is a fire pit with a BBQ grill rack. Bring your own firewood.
If you arrive by kayak, you can drag your kayaks up onto the beach just a few short metres from the shelters. The path to Slipshavn, which is in fact an ancient parish path, runs just past the site, providing easy access on foot or by bicycle. 
The Knudshoved and Slipshavn peninsular is famous for its fishing spots. There are many different spots to fish from close to this shelter site. The site is part of a Natura2000 special protection area. Knudshoved is an outstanding natural experience as it is a popular resting place and breeding habitat for wildfowl. Don't miss the viewing platform under the Great Belt Bridge, the view from the cliffs at the Knudshoved Lighthouse and Knaldfyr Signal Station. 
An urban shelter site out in the country and yet close to where it's at. The site is not far from the centre of Royal Nyborg. It is the shelter site closest to Nyborg railway station. Visitors can enjoy activities on the fjord from the nearby harbour. Vessels of all sizes call in here. 
The Slipshavn Plantation shelter site is part of the Blue Landmarks shelter scheme, funded by Danish state rural development grants. The shelters in the scheme are all at coastal locations. The idea is that visitors can stay overnight in shelters all around the island of Funen. This shelter site is operated and maintained by Nyborg Municipality. 
To learn more about and book this shelter site, click on the link or visit bookenshelter.dk.