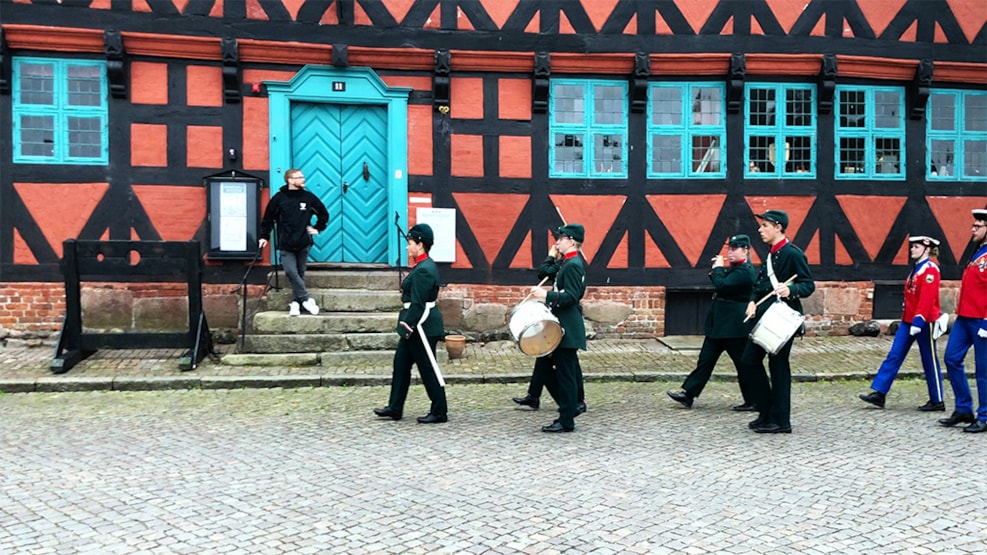 Tappenstreg Tattoo
The Tattoo is an ancient military ceremony with musical accompaniment.
The ceremony as we know it today dates from the mid-18th century and was used in most Danish garrison towns to call soldiers home to their barracks and quarters from the beer taverns and canteens. This practice has also been used in other European towns and cities.
The word tattoo comes from the Dutch or Low-German "taptoo" or "taptoe", which means "to close the tap or bung of a barrel".
On the march through the streets of the town, the drinking haunts of the soldiers were visited, and the officer in charge would bung up the barrel or draw a chalk mark across the tap to indicate that it was not to be turned on again that day.
Today´s Nyborg Tattoo is an attempt to recreate as accurately as possible the ceremony as it was in around 1869, when Nyborg Fortress was abandoned. In the years that followed, the work to remove many of the ramparts began, and with it many rites and customs, including the Tattoo, were rendered obsolete in the 1870s.
In contrast to other garrison towns, the Tattoo in Nyborg, with its flute and drums, only took place on Tuesdays at 9 p.m. This is thought to have been because the soldiers were largely quartered privately, and not in barracks, making calling them home from the beer taverns and taprooms unnecessary.
The 3rd Corps of Chasseurs or the Nyborg Chasseurs, as they were commonly known, came to Nyborg from the Citadel in Copenhagen in 1842. The Corps, which enjoyed great popularity in the town, played an honourable role in both Schleswig wars (1848 and 1864). In tribute to this Corps, participants of the present-day Tattoo bear its green uniform.
The traditional melody is said to derive from an English folk song from 1720, which was heard for the first time in Copenhagen in 1748.
In the 19th century, the regiments used young boys as trumpeters, drummers and flautists. As a boy, the world-famous Danish composer Carl Nielsen was also a trumpeter with a Funen regiment.
Join us for a free tour of Nyborg
The march starts at Skilderhuset, at the junction of Adelgade and Strandvejen, and then proceeds through the streets of the town. The route takes you to several of Nyborg's unique, must-see sights and attractions. So, come along on this free guided tour of the town with musical accompaniment and then delve deeper into the many historical sites afterwards. The tour takes around 1 hour.