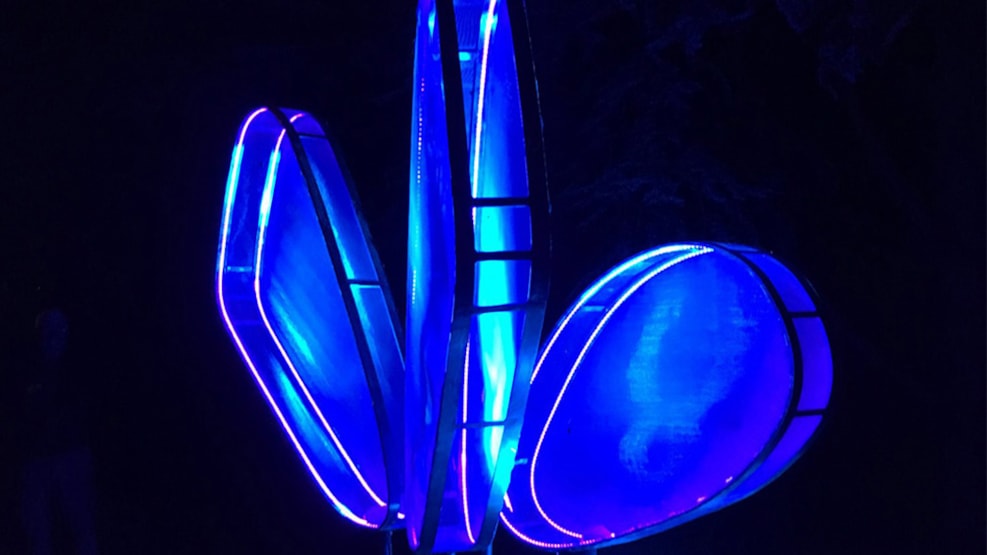 TICKON: Love Motel for Insects, Brandon Ballengée
Brandon Ballengées work is only exhibited on special occasions and is best experienced after sunset.
Love Motel for Insects
Artist: Brandon Ballengée
2019
N.B. An admission fee (25kr) is payable to enter the Castle Park.
An attraction for amorous insects
One mild August evening in the summer of 2019 a large, stylised, butterfly representing a Common Blue was unveiled - created out of metal, netting and blue LED lights.
The modified drawings for this artwork were created by the American artist and biologist, Brandon Ballengée, but its manufacture was placed in local hands as, for reasons of practicality, Ballengée was unable to fly here with a completed artwork.
For a week this Common Blue butterfly lit up the banks of the castle's lake, attracting amorous insects, which Ballengée and his family would then give lectures about.
When the butterfly, Love Motel for Insects, is lit up again on the the banks of Tranekær Castle's lake, the event will be announced on posters in the newsletter sent to TICKON's Friends, and in the press.
'Love Motel for Insects' is one of a series of public art installations intended to construct interactions between people and insects. The works use ultra-violet light to attract nocturnal insects that are otherwise only rarely seen.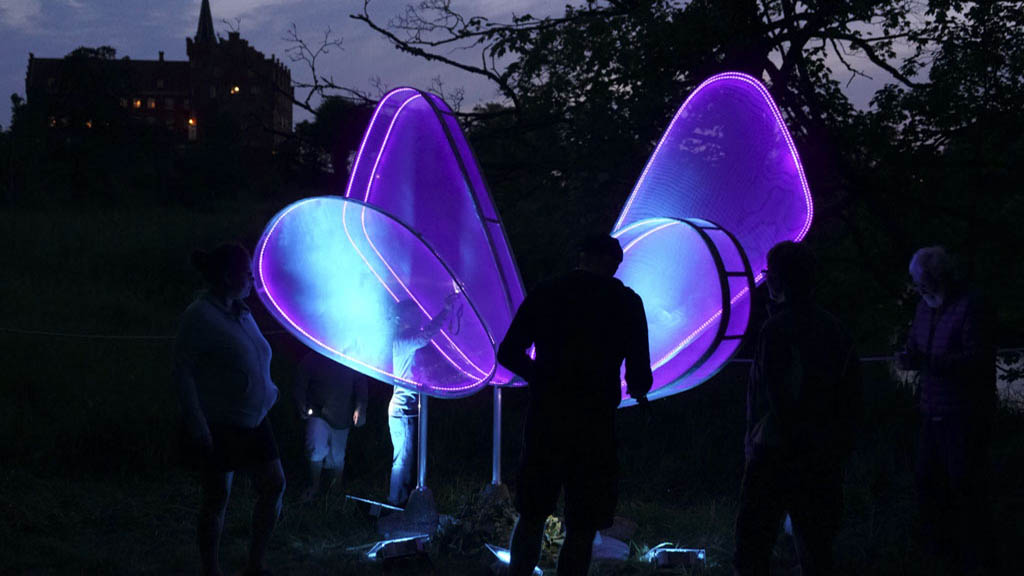 Brandon Ballengée
Brandon Ballengée was born in the USA in 1974. He is a biological researcher and an art professor (School of Visual Art) and lives in Louisiana, USA where his family, amongst other things, is responsible for a large nature restoration project. He works together with his wife , Aurore, on both art and research projects and created many pieces that are not only aesthetically pleasing artworks but also have a research function.
Read more
Read more about TICKON here.