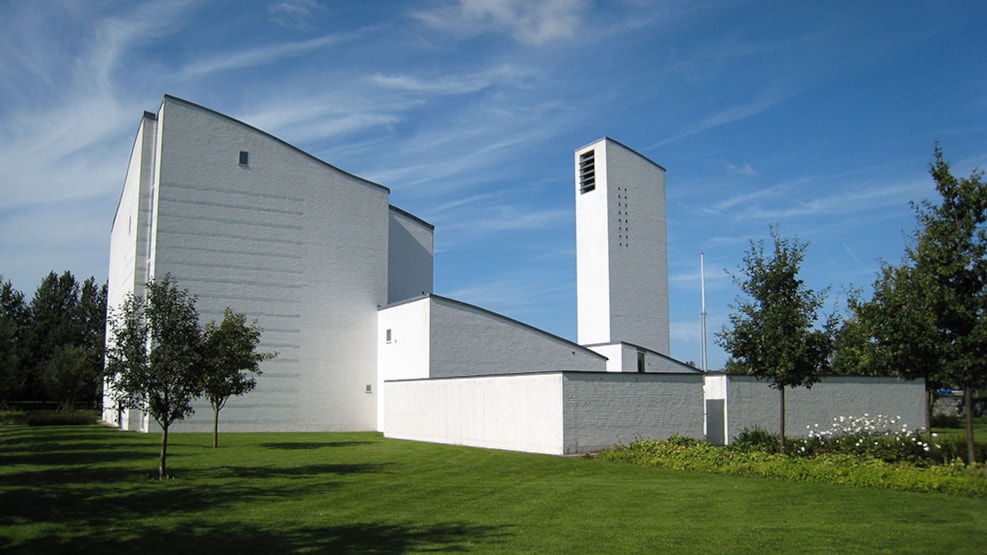 Tornbjerg Church
The church, designed by architects Johan Fogh and Per Følner, was built in 1994. The church's expression is very modern but takes its cue from the medieval church, both in the positioning of the buildings and in the choice of materials - whitewashed walls and lead-grey roofs. The church space is almost square, a so-called central room, where the priest and the congregation are close to each other. The baptismal font stands in the middle of the room, and the altar table stands in a niche against the east wall of the church. Both the font and the altar table are of Finnish granite. The pulpit and pews are of birch wood and birch plywood, which gives them a light and Scandinavian look.
The light in the church plays an important role in the design. Natural and electric lighting help to create a beautiful church space. The changing light of the sun is reflected in the church room, with large window recesses in the south wall that help break the sun's direct access to the room. The church room's electric lighting consists of rows of single pendant bulbs and recessed spotlights under the pulpit.
Art in the church
In 2000, the church received a new altarpiece. The altarpiece is an 8-metre by 2-metre work of art in painted glass, created by the Faroese artist Tróndur Patursson. The painting is transparent, and the whitewashed wall behind the artwork shines through.
The church silver, designed by the church's architects, was made by the Copenhagen silversmith Per Sax Møller. The silverware is streaked with inlaid white enamel rings, mirroring a design element throughout the church.
The church's bell tower is free-standing but built in the same materials as the church, and the white stripe, which is common in many places, is also used here. The two bells in the tower are cast in Holland and decorated with quotations from the Aronite blessing.
The cemetery
The surrounding cemetery is laid out as open lawns with more than 2000 symmetrically planted oak trees. It is used only for urn burials, and its uniformity is ensured by the design of an urn marker for the lawn's graves by the church's architects.