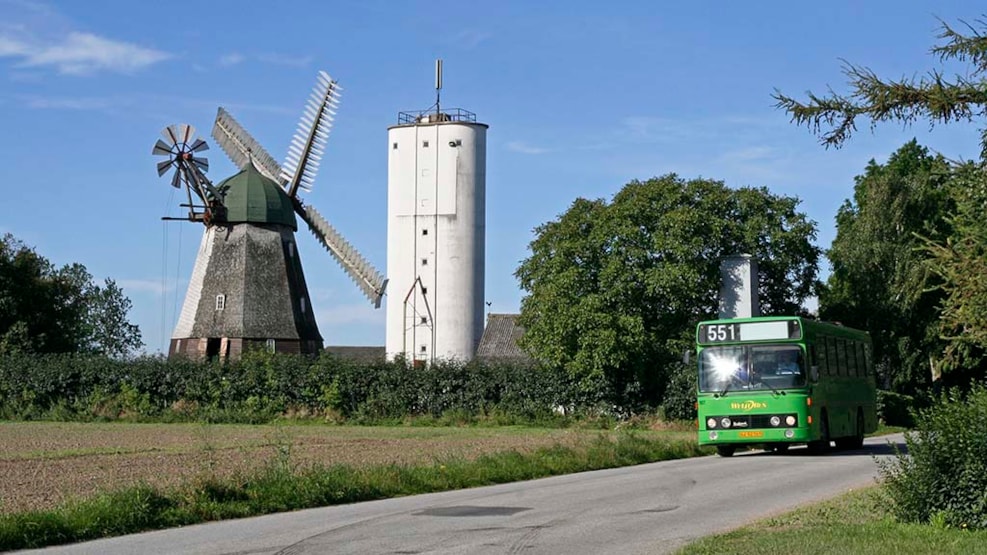 Uggerslev
UggR's heritage and an old railway town on the North Funen Railway between Odense and Bogense - Uggerslev is a nice village!
Uggerslev is a nice village next to the small river Ringe Å and with route 327 right through the town.
The name Ugger may come from the Old Norse male name Uggi / UggR, which was common in ancient times. The word means fear. The suffix -lev comes from the Old Norse word -leif, which means inheritance. The name Uggerslev probably means Uggi / UggR's inheritance. Place names with -lev originated in the Germanic Iron Age from 400 to 600 AD, and that means we know that Uggerslev is an old town.
Uggerslev Mill
Uggerslev's landmark is the fine Dutch windmill at Petersmindevej, which has been owned by the same family since 1880.
Today, wood pellets are sold from Uggerslev Mill. But until 1967, the mill was used for grinding grains.

Uggerslev got its first mill in 1880, but it burned down in 1889 in a thunderstorm. The current mill is built in 1900 and both house and mill are preserved and well maintained.
The railway
From 1882 to 1966 there was a train station on the railway Nordfyenske Jernbane, Odense-Bogense, in Uggerslev. You can still see the station buildings in yellow bricks on Stationsvej 25. The station is like the other station buildings on the stretch designed by architect N.P.C. Holsøe.
The church
Uggerslev Church dates back to the 12th century. A village church with a wide but short tower with a spire and in which the entrance to the church is. There is a fresco on the north side of the ship depicting Jesus in front of Pilate.

Population: Around 360.