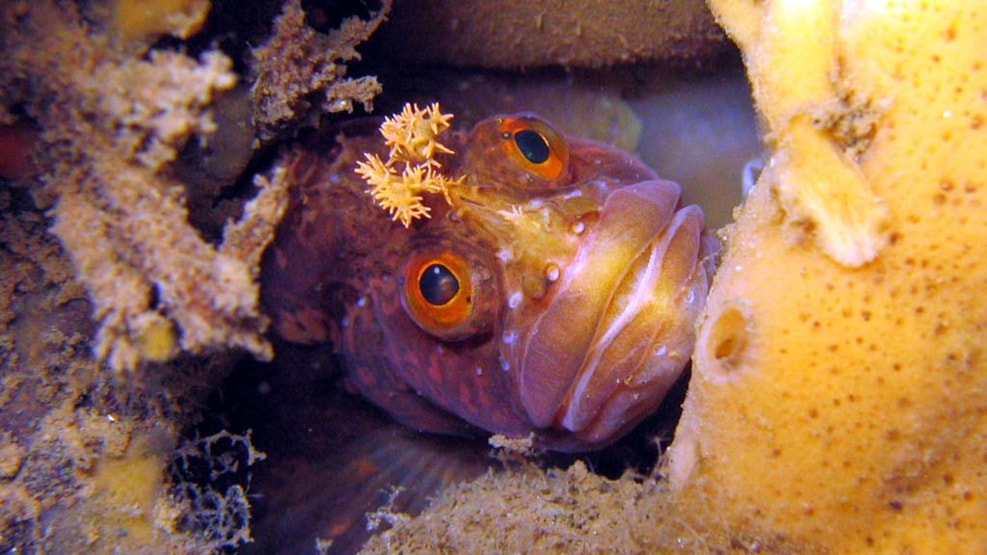 Unterwater trail at Søbadet
The underwater trail, which starts in front of the Søbadet, follows the stone reef out into the Little Belt. The trail is for experienced scuba divers only.
What can you see?
The underwater trail is 50 meters long with a maximum depth of 20 meters. There are 9 markers along the trail providing information about what you can see in that area of the reef. The signs are numbered 1-9 with an arrow pointing to the next marker. You will learn about the rich variety of life that lives on and around the stone reef.
Read more about Yarrels blenny that hides in the holes in the reef and in the clay slopes and about the plumose anemone that hunts with a bow and arrow and enjoy the other beautiful strawberry sea anemones. Maybe you will spot a lobster or the rare tadpole fish. The stone reef continues out into the depths and if you turn to the left, you will find the unique steep clay slopes at Søbadet.
Facts
How to find: Coming from Brovejen (Road 161), turn at Galsklintvej, drive 400 metres ahead, then turn right at Søbadvej. At the end of the road, you find the yellow building called Søbadet at Little Belt. The stone reef is about 50 metres down the beach towards the Little Belt Bridge. The underwater trail starts at the two red buoys, where the first stones from stone reef are sticking up above the surface.
Geocoordinates:
Longtitude: 55.31000
Latitude: 9.420200

Google Earth Coordinates:
Latitude: 55.516667
Longtitude: 9.700556

Getting in and up the water: 

Highlights: Stone reef, cave and hiding places. Strawberry sea anemones, plumose anemones and other animals that cling to the rocks. See if you can spot the reefs most common fish the goby, the goldsinny wrasse and the less common Yarrels blenny and tadpole fish. You should also look out for lobster.

Air filling station: There is a possibility of getting air at Hindsgavl Camping in Middelfart (open all year) within their opening hours: Hindsgavl Camping. Alternatively, you can ask at the local diving club in Middelfart: phone (+45)3311 1323

Best season: The trail is open all year round

Depth: Max depth 20m
Length: 50m

Tide: There are changing rooms and showers in the yellow building – Søbadet.
Level of difficulty (1-5): 3
Permissions: None

Facilities: Parking and toilet (entrance inside the yellow building from the parking site) PLEASE NOTE: limited opening hours for toilet.

Photo opportunities: Wide angle and macro.
Diving Map: Lillebælt


Underwater trails Developed with the support of:
The EFF
Ministry of Housing
Urban and Rural Affairs
Danish Outdoor Council
Middelfart Municipality
Diving club Marsvinet
VisitMiddelfart
Middelfart Savings Bank