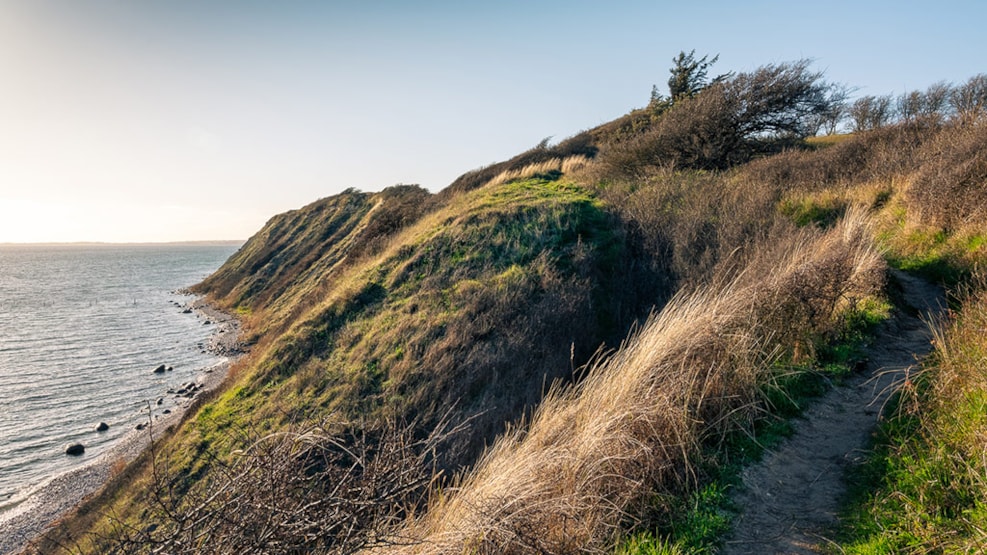 Walk Around Langeland - Etape 3 - 15 km - Bagenkop - Ristinge
Stage 3 of "Langeland Round" begins in Bagenkop, South Langeland's popular fishing village and tourist center. It first takes you past a number of fine wetland areas, rich in birdlife - known as "Nor"s- before reaching the wide sanding beach running along the Ristinge peninsular and the characteristic cliffs of Ristinge Klint. The stage ends close to the small harbour at the village of Ristinge, where you can find both overnight shelters and toilets.
The coastline from Bagenkop to Ristinge has the distinct character of a lee coast, with bays, coves, salt marshes and a number of "nors" - Klise Nor, Hellenor, Salme Nor, Tryggelev Nor and a little way inland, Nørreballe Nor.
A "Nor" is an area of open water surrounded by land and only connected to the sea by a narrow opening. Today many of the nors on Langeland are no longer connected to the sea, waves and water currents have transported material along the coast, forming a barrier of sand, gravel and small stones between the nor and the sea.
Enterprising Langelanders have attempted to drain a number of nors and cultivate the reclaimed land, many times with a great deal of success  - along the way you will pass pumping stations, ditches, dykes and dams, all of which bear witness to the efforts made to keep the water at bay.
The nors along the east coast that have not been drained, contain clear standing water and resemble lakes or water meadows, some with small islands and areas used or grazing animals. Many nors are an eldorado for birds, so bring your binoculars!
Ristinge Klint is the stage's highest point at 25 to 30 meters above sea level.