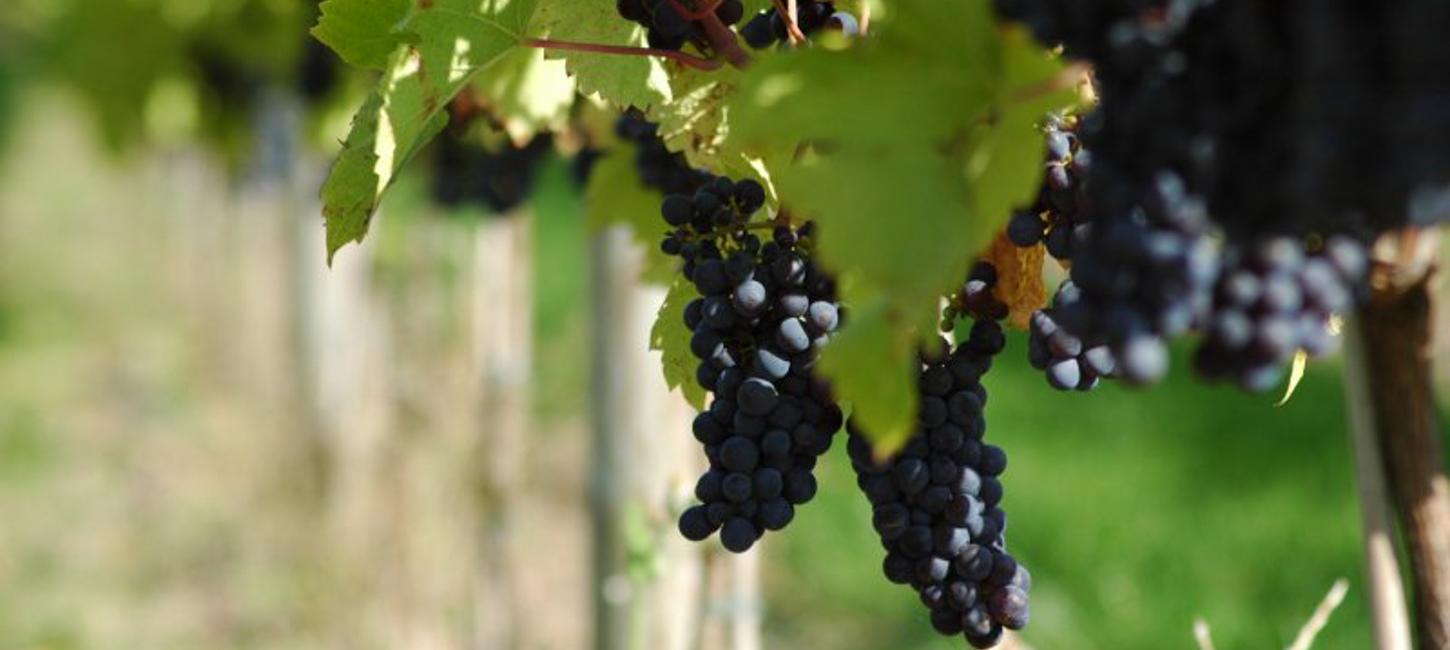 Wine and hiking - a culinary hiking trip
Take a culinary hiking trip in the nature on Fyn and get a unique culinary experience. Visit Skaarupøre Vineyard on your hike, where approx 2000 vines are in dead straight lines in beautiful and idyllic surroundings.
Directions
The starting point of your walk is framed by the graceful old wooden ships in Svendborg Harbour. From the harbour, follow the Archipelago Trail eastwards, passing through the park woods of Svendborg on Øxenbjerg Banke and Strandpromenaden (the Beach Promenade). This is an important recreational area for the local citizens.
Your route will then lead you through the area known as Gammel Hestehave, which is the site of a large number of Bronze Age burial mounds. At Rubjergskov woods, the Archipelago Trail turns inland, climbing up a steep slope that presents quite a challenge.
Juliegård Farm is mentioned in the description of walk no. 8 in the book entitled The Archipelago Trail – A walking tour of the South Fyn Archipelago. When you reach this point, the Archipelago trail starts to zig-zag its way through the cultivated land with its fields of Christmas trees, strawberries and grain crops.
When you reach Skårupørevej, leave the Archipelago Trail for a while and continue approx. 1 km north along the road until you come to the winery called Skaarupøre Vingaard. Step inside and sample the delicious wine.
After visiting the winery, take the same road back to Svendborg – if you are spending the night there – or continue along the Archipelago Trail to your next destination. Just remember that the route back to Svendborg after your wine tasting is 11 km long! Of course, you can always catch a local bus – for timetables, see www.fynbus.dk or ask at the place where you are staying.
Taste wine made from Danish grapes
The winery produces white wine, sparkling wine and the fiery grape-based spirit called Grappa. All cultivation and production is carried out as considerately as possible, and the vineyard works according to the principles of sustainability with a view to optimising the quality of both growing and wine-making processes. The owners will soon be able to affix the prestigious 'Organic' label to their bottles.
Visit the winery for a guided tour of the fields, to hear about the history of the farm, and – of course – to taste the delicious wine. There is also a small farm shop (called Vintønden – The Wine Barrel) that sells the farm's own produce and other Fyn delicacies. If you buy drinks at the farm, you can eat your packed lunch there. You are also welcome to explore the fields for yourself.
For information about opening hours and to book guided tours, contact: Skaarupøre Vingaard, Skårupørevej 28, Skaarup; tel. +45 6126 0368 or +34 6126 0568, www.skaaruporevin.dk.