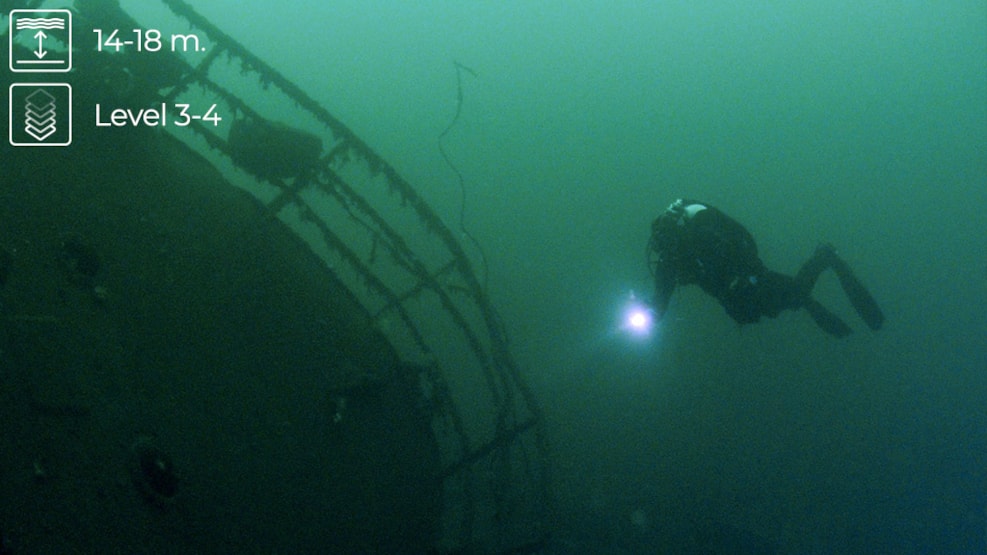 Wreck dive: Skansen - The central part of the Langelands Belt
This whole wreck is beautifully encrusted, especially with mussels, and on the surrounding seabed you can find parts of the wreck. Even though it is one of the oldest wrecks in the Langelands Belt it offers a wealth of attractions.
Wreck Type
Dredger
Built in Holland in 1937
Length: 26m Width: 6m
Nationality: Danish

Depth: From 14 to 18m
Highlights: The whole ship.

Safety
You must always fly the A-flag when diving, a boat handler should remain on board when divers are in the water.

Visibility
Generally good.

Currents
From 0 - 3 knots.

Photography
The stern, bows, wheelhouse.

About The Skansen
One of the easiest shipwrecks to find in the Langelands Belt is the Skansen. The ship was a dredger that sank on 30th September 1978 while working on the lighthouse "Højbjerg E". It had sailed from Bagenkop carrying 160 tons of stones that were to be placed around the lighthouse. The ship sank shortly after mooring at the lighthouse. All accounts agree that the ship was hit by a powerful swell, which caused the ship to hit a metal attachment point on the lighthouse, creating a gash in the ship's hull. The ship's crew escaped onto the lighthouse, from where they watched the ship sink in only 20 minutes.

The ships bridge and mast were removed within a few days as they presented a hazard to shipping, but otherwise the wreck is pretty much intact and is one of the most recent wrecks in the Langelands Belt. You can dive into the hold, where a fish or two may be hiding, or you can swim into the wheelhouse. The explosion however has deformed some parts of the hold, making it hard to recognize. Behind the wheelhouse can be found the funnel, which is beautiful overgrown, as is the rest of the ship.

The stern is intact, and you will often find fishing lures on the remains of the railings. You can dive down beneath the stern to see the rudder and propellor shaft. The propellor itself has been removed however.

The wreck is not just easy for divers to find, anglers also often visit the wreck. It can appear that the Skansen has been decorated, with lures and other fishing tackle. Keep a lookout for the braided line that is often still attached to these lures, it is very strong, lasts for many years and can create a hazard.

The wreck lies close to the west side of the green painted lighthouse's foundations, with the bows pointing north. It makes a good dive, with a maximum depth of 18m. There can be strong currents in the Langelands Belt, so you may need to descend on the lee side of the foundations. If you are swept off the wreck, you can be carried right into the shipping lane.
| | | |
| --- | --- | --- |
| (lat) | 54.878333 | N54°52.700' |
| (long) | 10.835000 | E10°50.100' |
|   | ddd.ddddd° | hddd°mm.mmm' |