The Baltic Sea Cycle Route Stage 1: Sønderborg - Ærø - Svendborg
Als and Ærø - Picturesque ferries - Wild island environment - Seaside gold and fishing - Unique beach huts - The archipelago's relaxing atmosphere - Chatting with the locals
Starting in Sønderborg on Stage 1 of the route, you cycle towards Høruphav, through the Sønderskov forest. Here, you ride through several quaint countryside villages on Als before arriving at the ferry in Fynshav. This is the ferry to Bøjden, on Fyn and to Søby, on Ærø.
Jump on the Ærø ferry and set course for Søby. After an hour on board, you arrive in the town of Søby, which has a lovely, child-friendly beach. Should you fancy riding a few extra kilometres, the impressive Skjoldnæs Lighthouse and the beautiful Ærø Golf Course, are both close to the Route.
The Baltic Sea Cycle Route stretches from Søby to Ærøskøbing and is nearly 18 km long. You will ride through the beautiful Danish countryside, passing the old manor house of Søbygaard and the cosy little town of Skovby. Here, you will also find yourself on 'Ærø's Alps' where even experienced cyclists are put to the test. Your reward is the view!
For most of the journey, you are accompanied by a spectacular view over the archipelago towards Fyn. On the route near Ærøskøbing, you ride along the beautiful Borgnæs Bugt (Borgnæs Bay). Once you reach Ærøskøbing, you can venture through the cobbled streets on a little journey of discovery. From Ærøskøbing you have another ferry journey, which this time takes you to Svendborg on Fyn.
It is also possible to start Stage 1 in Svendborg, sail from here to Ærøskøbing and follow the Baltic Sea Cycle Route to Søby and Sønderbog, eventually picking up Stage 14 of the route here.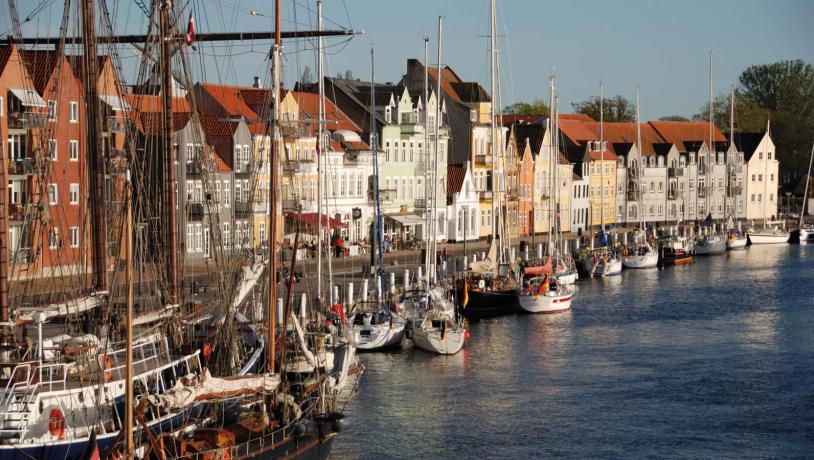 Photo:VisitSønderborg
Sønderborg Town
Sønderborg is a lovely market town with a beautiful castle that has protected the town for hundreds of years. Sønderborg and Als are connected to mainland Jylland via the stunning King Christian X Bridge.
The town is a popular destination for pleasure boaters. At the Sønderborg Castle, you can visit many historical exhibitions about Sønderjylland and Schleswig, going back 800 years. If you would like to experience Sønderborg from the top, you must visit 'The Point of View' viewing-platform at the new Hotel Alsik.
For more information go to visitsonderborg.com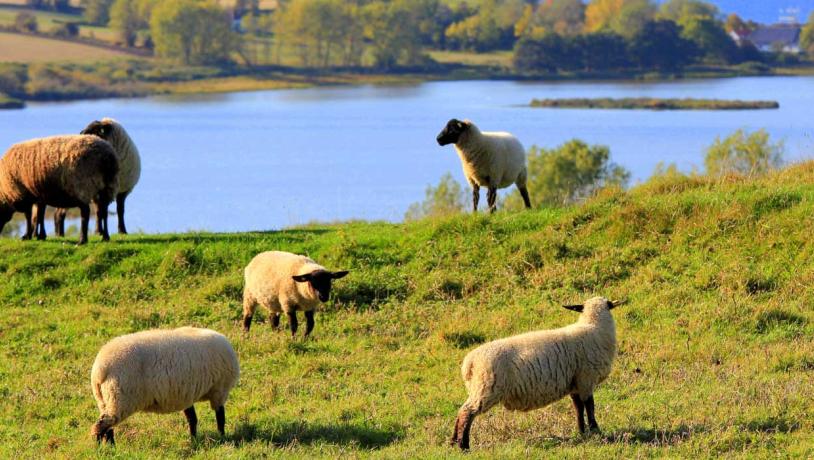 Photo:VisitFyn
Countryside on Ærø
The top attraction of Ærø is its stunning countryside. It is a combination of the gently flowing beaches, set against the backdrop of the South Fyn Archipelago and the more wild and rugged stretches of coastline against the Baltic Sea that makes Ærø's countryside so unique. A ramble on Ærø is an obvious choice for nature lovers. If you visit the area of Vitsø, you can find salt meadows, wetlands and water holes, the habitat for a vast range of geese and ducks. You may also pay a visit to Voderup Klint where large parts of the cliff have eroded to form long step-shaped terraces.
On the northern side of Ærø, you will find a beautiful lighthouse, Skjoldnæs Fyr. It can be seen all the way from Kiel in Germany. It was built as a beacon, after Denmark was defeated by Germany in 1864, to greet our friends and family from afar. Around the lighthouse, you now find one of Europe's most beautifully placed seaside golf courses. Fishing for pleasure on Ærø is world-class! You are almost guaranteed a catch of Sea trout along this extraordinary coastline.
For more information go to visitaeroe.com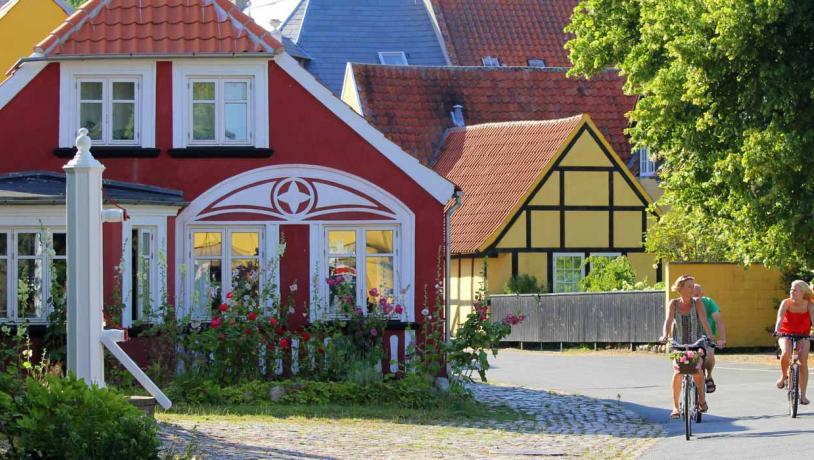 Photo:Bjørg Kiær
Ærøskøbing Town
The beautifully preserved town of Ærøskøbing lies on the northern side of the island in a natural harbour. Ærøskøbing is a well-preserved town from the Middle Ages, which has remained seemingly unchanged since the 1800s. The cosy winding roads and the old but well-preserved houses give this charming town a fantastic atmosphere. It is believed that the town stems from around 1250 and was built by the Margraviate of Brandenburg who owned Ærø at the time.
For more information go to visitaeroe.com
Beach Huts on Vesterstrand and Eriks Hale
A beach hut on Ærø isn't just any old beach hut. It is a place where friends and family gather, where traditions are upheld, and where people have fun while the sun disappears over the horizon.
You find these characterful beach huts in two places on Ærø – some on Vesterstrand near Ærøskøbing and some on Eriks Hale by Marstal, approximately 12km from the Baltic Sea Cycle Route. The oldest hut is nearly 100 years old, and the job of preserving these beautiful gems is taken very seriously indeed.
For more information go to visitaeroe.com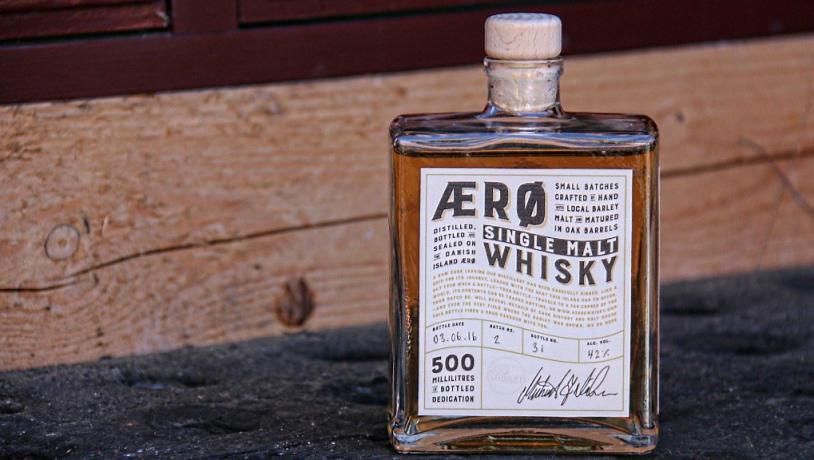 Photo:VisitÆrø
Taste of Ærø
Let your taste buds tingle as you visit the old farm shops and gastronomic entrepreneurs on Ærø. The former grocery shop in Ærøskøbing is a quaint and cosy, shop and café. Don't forget to take a peek at the old Laundry House that now houses the new micro-distillery 'Ærø Whiskey'. Many Danes love a small sweet with liquorice sandwiched in the middle, called 'Lakridskonfekt'. This little confectionary has been reinvented to an exceptional standard at 'Hattesens Konfektfabrik'.
For more information go to visitaeroe.com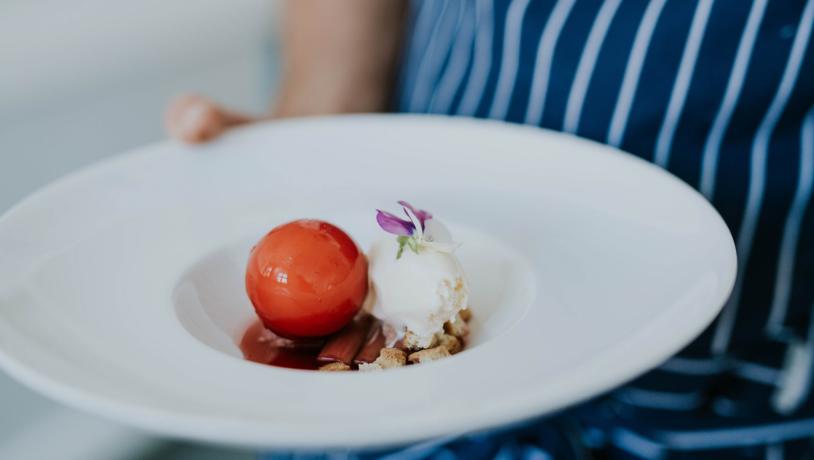 Photo:VisitÆrø
Arnfeldt Hotel & Restaurant
Intimacy, hospitality and local produce from Ærø is on the menu at the Arnfeldt Hotel and Restaurant. Morten Arnfeldt delivers superb haute cuisine, focusing especially on high quality, local produce. The wine menu has been specially selected to accompany the restaurant's menu, which changes weekly. The restaurant lies in the old part of the town and has a large terrace with views over the harbour.
For more information go to arnfeldthotel.dk/en