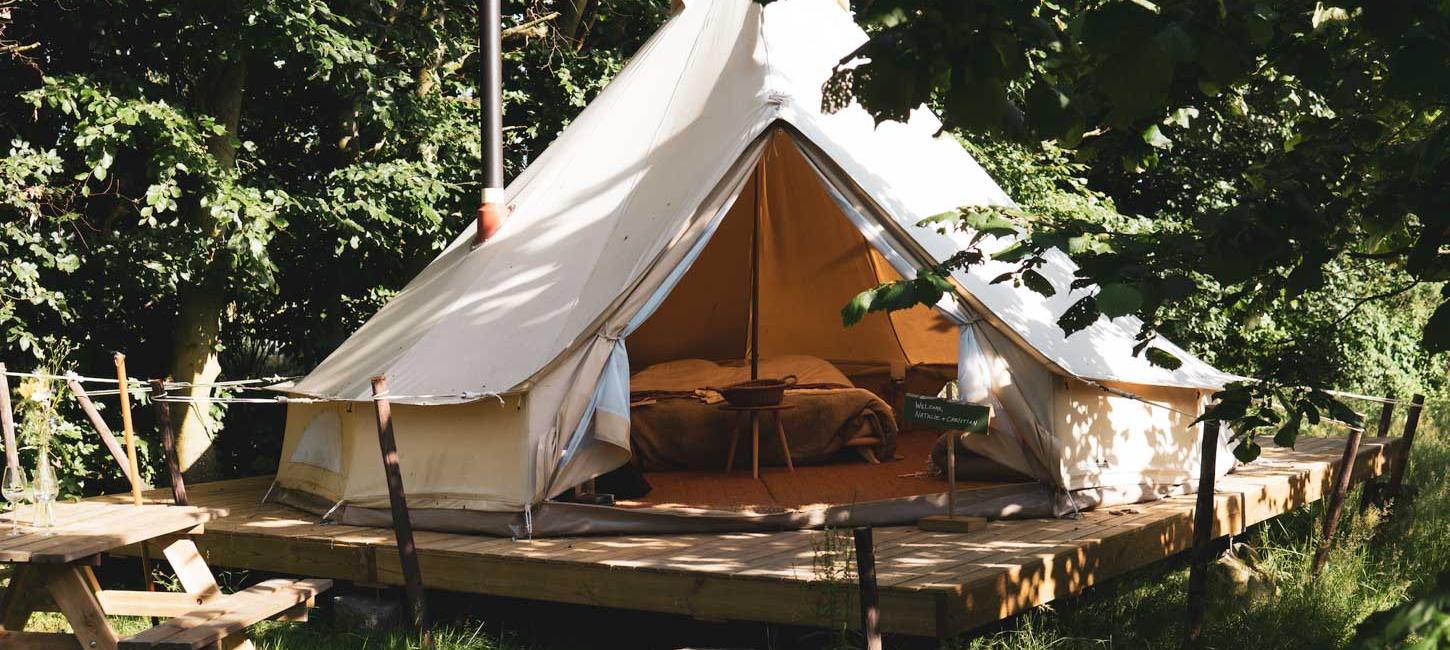 Tiki Camp – Sustainable camping with style
At Tiki Camp you can experience environmentally friendly glamping, where you immediately feel a calm under the shade of the trees among the chirping of the birds.
At Tiki camp, you can experience environmentally friendly glamping, where you will feel calm immediately under the beautiful trees and among birds chirping.
Glamping is camping with a luxurious twist – it is glamourous camping close to nature, but with high comfort in either luxury cabins or extravagant tents. The hosts Tirza and Nicki take precaution for the environment in all aspects possible. The Dutch couple who have created the amazing oasis in a hazelnut plantation just outside Tranekær, had a goal of creating a sustainable accommodation concept which does not compromise on quality.
It must be both comfortable and cozy, but there is a particular focus on the unique and cozy atmosphere, where both the experience and nature are the center.
The small eco-friendly farm consist of a cozy plantation with a total of 7 cabins and tents – in additions to the vegetable garden, fruit trees, a small lake and various animals ( mostly former farm animals ), there is a common pizza oven. The large tents have their own wood stove for cold nights or brewing a great morning coffee.
Photo:Tiki Camp
Local and organic
The food is produced locally – both on site in the vegetable garden or at the local organic businesses. The small farm shop is also filled with great organic items, either produced on site or from locals nearby.
If you travel by foot, bike or public transportation you will get a 10% eco-travel discount. On site you can also borrow bikes or rent SUP boards, so you can get around and experience the beautiful nature on Langeland.
Sustainable solutions have been thought of everywhere at Tiki camp. Everything from the organic mattresses and duvet covers to the toilets and electricity. For example, the battery-powered lamps can be carried around, as there is no electricity in the tents. Only the common areas are lit up, so you can easily experience the starry night under the open sky.
Staying at Tiki Camp means enjoying the more simple things - It's about connecting with yourself, each other and nature. That's Hygge.
As guest at the Tiki camp, it is highly encouraged to be aware of the nature, environment and animals – and not to consume more than needed. This is a lifestyle they hope their guest will take home after and unforgettable visit at Tirza and Nickis campsite.
Conscious Luxury Camping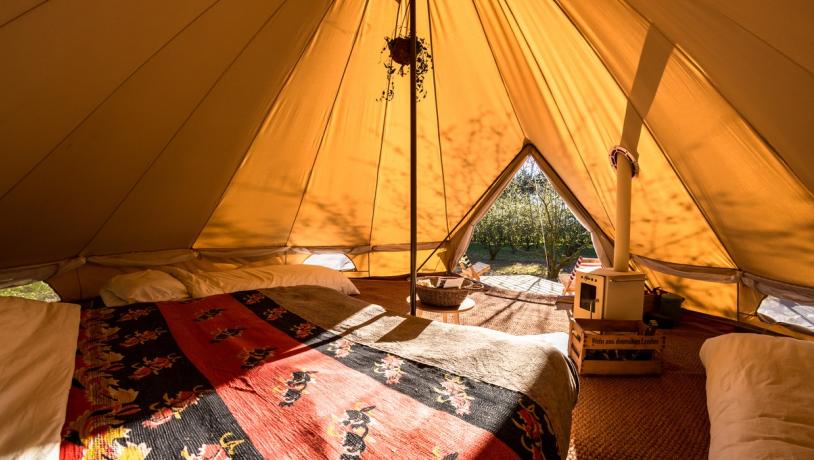 Photo:Tiki Camp