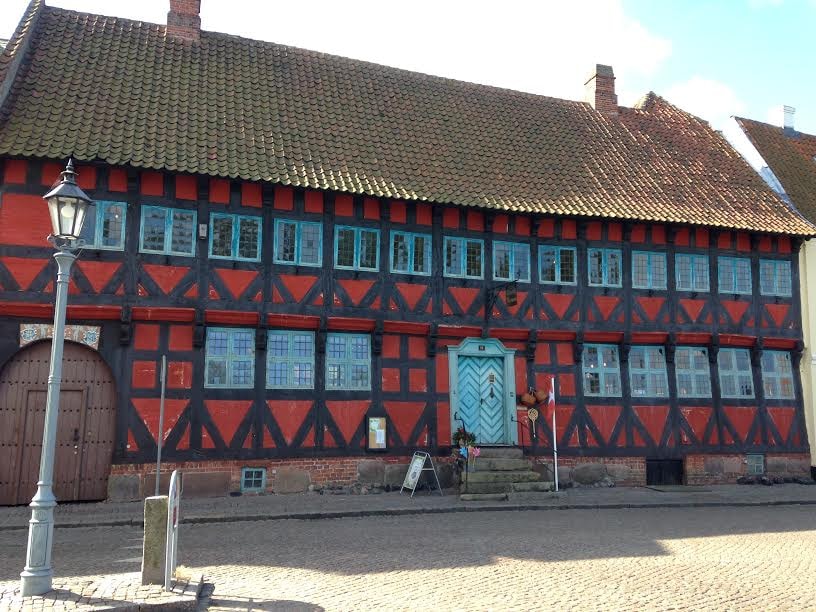 11 Borgmestergården in Nyborg
11 Borgmestergården, Slotsgade 11
The red-painted merchant's and mayor's house was one of the few buildings to survive the fire in 1797. It is possible that an older house stood here, but the wing facing the street with, with its fine vaulted cellars, was built by Mayor Mads Lerche in 1601. The side wings were added by his son, Jakob Lerche, in the 1630s, and the whole complex is a good example of half-timbered houses on Funen from the Renaissance period.At the rear there is an external gallery that made easy access from one part of the upper storey to another.
In 1914-1918 the building was renovated by the architect Mogen Clemmensen and presented to the National Museum on condition that it would house the town's first public library and Nyborg Museum. The donation was paid for by the Sibbernsen brothers. Until 1939 the library occupied the ground floor, and thereafter the museum took over the whole building.
Borgmestergården helps to frame and communicate the entire neighbourhood and the urban space around Nyborg Castle as part of East Funen Museums. It conveys the history of the town starting from the Renaissance in a broader culturalhistorical light. There are exhibitions and things for the whole family to see and do.