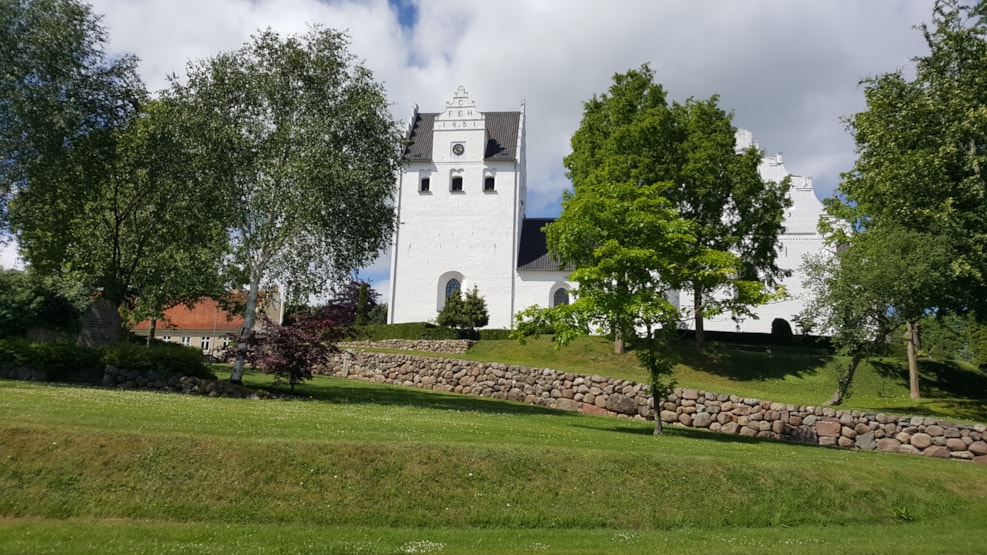 3 stop: The Black Clover Path - Vindinge Church
Vindinge Church is Funen's largest parish church and allegedly the country's third largest. The core of the current church is a Gothic church built in the 14th century to replace an older Romanesque church.
Areas around Vindinge Church
The area around Vindinge Church was already of great importance in the Viking Age and the early Middle Ages. A fortified rampart from the Viking Age at Rosilde is possibly to be seen in connection with Gammelborg, which is a fortress of refuge from the Iron Age. However, recent archaeological excavations have shown it may also have been in use in the Viking Age. Traces of a seasonal trading post have also been found where Vindinge Kirke is located today. Among other things, Arab silver coins have been found here.
King Svend Tveskæg
According to Svend Aggesen's chronicle from the end of the 12th century, King Svend Tveskæg (literally tveskæg translate into double beard) was set ashore at Vindinge after he had been ransomed from captivity by the Jomsvikings in Poland with his weight in gold. The Danish women in particular had contributed with their jewellery, and as appreciation the king had given them the right to inherit - however they were only allowed to inherit half as much as men.
The location at Vindinge river, which is Funen's second largest watery river system, made access to the area by ship much easier in the Viking Age and early Middle Ages. It functioned as a manor town, but in 1299 the king moved the manor council to Nyborg, which had become the most important town on East Fyn. The water level in the river dropped considerably when the water was diverted from Vindinge river via Hjulby Lake to Nyborg Castle order to fill the moats around the castle with water and the town around the year 1200 with the water lock at Kullerup.
Vindinge Church
In the Middle Ages, two cross arms were added to the church, probably first in the north (where St. Mads' Chapel is located) and then in the south. Even later, it got its considerable tower, where today there is an entrance, and a small armory up the southern cross arm (today a mortuary chapel). The church is richly equipped inside with a magnificent golden velvet altarpiece from approx. 1480 and there have been woodcarvers from Claus Berg's famous workshop in Odense in the chapel of St. Mads. It is probably connected with the fact that the Ulfeldt noble family, who lived at Holckenhavn, used the church as a funeral church from 1420-1616.