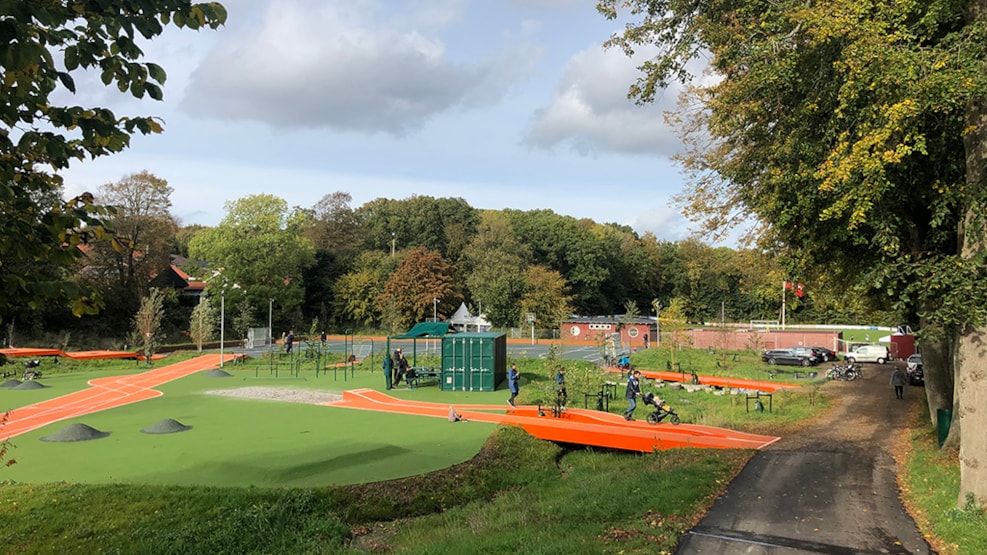 Activity forest in Middelfart
The activity woods are filled with a variety of play equipment, a parkour bridge, a climbing net bridge and tracks for running and cycling.
No matter your age, you won't be able to stop playing and moving about in the activity woods, which are located in a green oasis just 10 minutes away from the noise of the town.
The activity woods play a major role in Middelfart's KlimaByen (climate city) project, demonstrating how rainwater can be an asset when climate adaptation is considered together with the development of green urban spaces. KlimaByen uses climate adaptation measures to create a unique urban impression and unique public spaces.
Middelfart's KlimaByen project is Denmark's largest project that demonstrates urban developments through climate adaptation measures. Rainwater is not visible most of the time, however. We have therefore emphasized that KlimaByen's new climate adaptation solutions should have even more functions, so that they contribute to making everyday life greener, healthier and more fun for the people of our town.