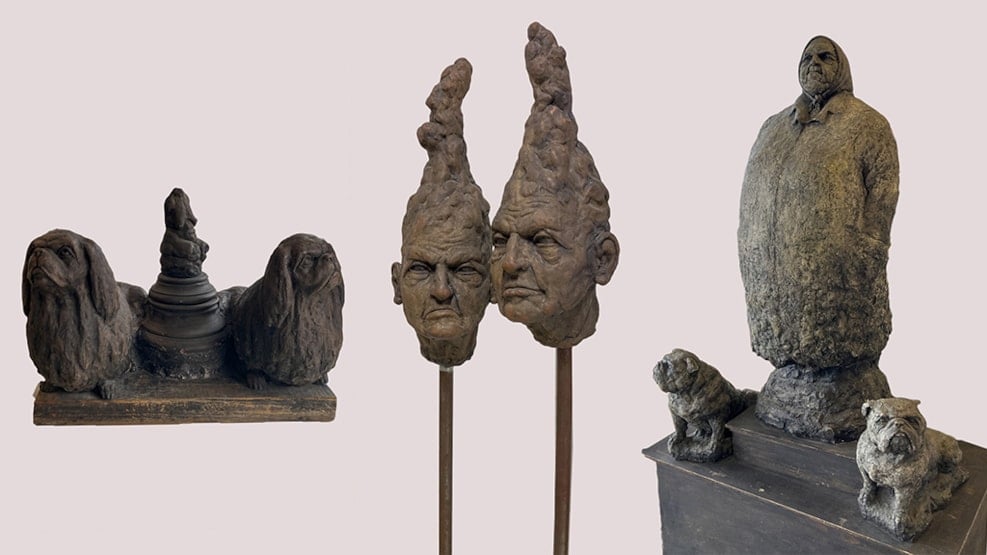 ART IN THE LIBRARY: Sculptures by Lars Calmar
In Langeland's Library you can find artworks by a number of artists, including Lars Calmar
Whether you enter Langeland's Library through the main entrance or from Østerport you will be welcomed by one of Lars Calmar's scultptures.
If you come in through the main entrance, in the porch you will meet an elderly woman and her two dogs. The woman is dressed in a large coat and is wearing a headscarf. She has a determined look on her face, and her teeth look slightly clenched. The wrinkles in her face can clearly be seen and you can sense how the woman's bosom hangs under the coat.  
This focus on how time leaves its mark on our bodies is characteristic of many of Calmars sculptures. Often he depicts people naked so one can really see the inevitable effect of gravity on the human body.
If you walk through the library to the door out to Østerport, you will again meet two dogs, this time they accompany the naked torso of a woman. The torso is clearly that of an older woman and it has been placed on a pedestal in a sitting position. The posture of the torso mimics the sculptures of antiquity, whch celebrated the lithe and athletic body, but here it is the aging, transitory body that is honoured.
Lars Calmar
Lars Calmar was born on Langeland in 1968. He is educated as a potter and is a self taught sculptor. He has, amongst other things,  exhibited in Chicago, New York and Toronto and his work has also been purchaced by The Danish Ministry of Culture and Funen's Art Fund. 
Read more about Lars Calmar here.
Also see...
The sculpture of two heads by Lars Calmar, which is placed...