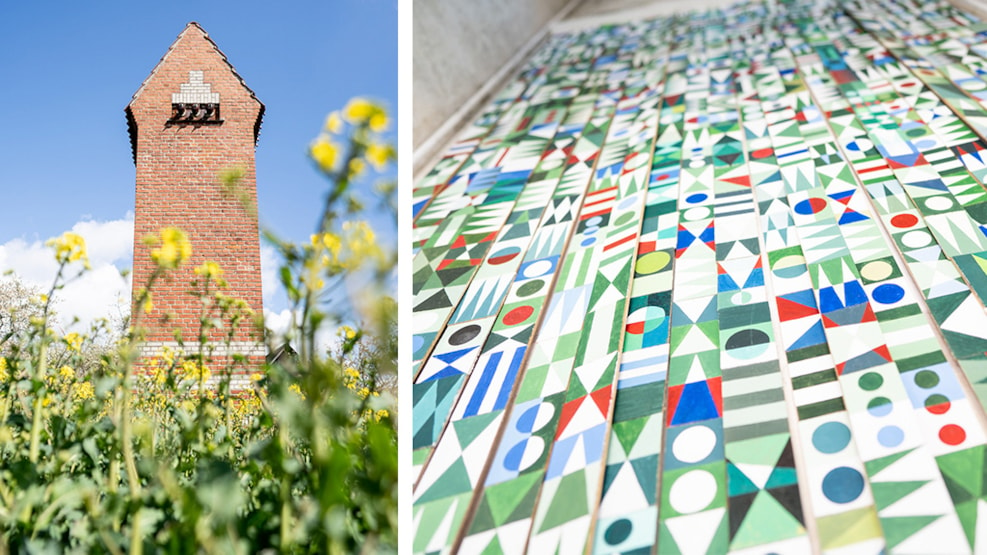 Art Tower No. 7 - Hans Kjær - Spring
Hans Kjær brings Spring into Art Tower No. 7, with his work, created from painted, recycled wood.
Art Tower No. 7:
Artist: Hans Kjær
Artwork: "Spring"
Created: 2021
Spring
"The artwork in my Art Tower is one of a seies of four images that express themselves as patterns. I called this piece "SPRING" and it consists of geometric designs that together form a pattern. The colours white, light green and blue, will perhaps bring to mind the colours of nature in the early spring. The 3 other artworks, "SUMMER", "AUTUMN" and "WINTER" can be seen in my studio in Østergade." – Hans Kjær
Langeland's Art Towers - a unique way of experiencing art
Denmark's longest art exhibition can be experienced by visiting 12 former electrical transformer towers on Langeland. The art towers give visitors an artistic experience in the heart of the Langeland countryside.
From North to South and East to West, you can explore the cultural landscape and enjoy art in rural peace and quiet.
The towers are open all year round. A tour around them all will always offer a new experience, influenced by both the season and weather. 

You can read more about the  12 art towers at https://www.govisitlangeland.com/langeland/discover/art-towers