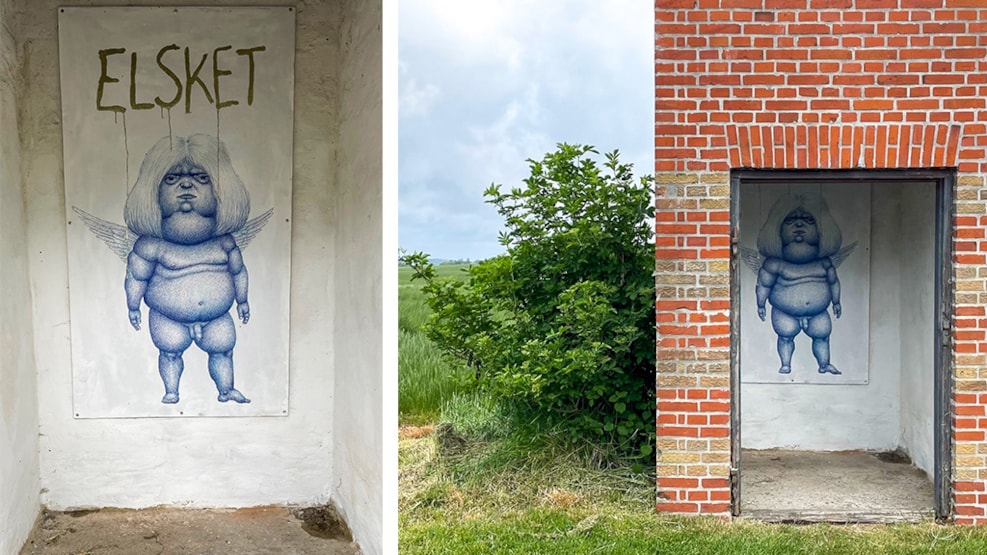 Art Tower No. 9 - Lars Calmar - Loved
In Art Tower No. 9 Lars Calmar presents a lovable (who knows?) little man with a huge head and a blond page-boy hairstyle.
Art Tower No. 9: 
Artist: Lars Calmar
Artwork: Elsket (Loved)
Created: 2022
Loved
In Art Tower No. 9 on Haugbøllevej you can find a large blue ballpoint pen drawing of one of Lars Calmar's favorite characters, a naked, lovable (who knows?) little man with a huge head and a blonde, page boy  hairstyle, bearing the inscription "Loved" - just in case you were in doubt.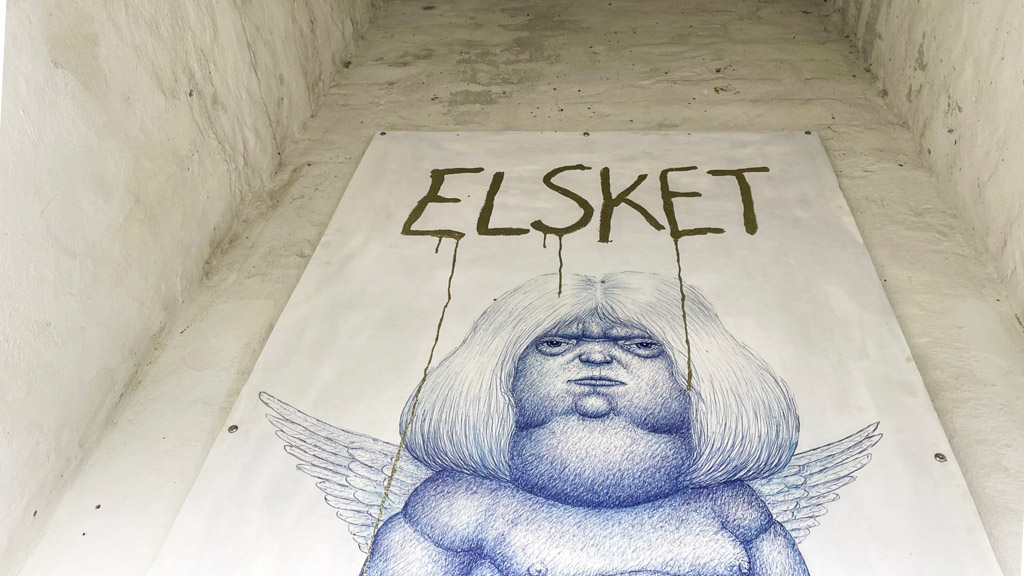 Lars Calmar
Lars Calmar is a provocateur and his work questions our understanding of what is a beautiful human body, and beauty in general. He expresses himself in both the media of drawing and ceramics.

Calmar was born on Langeland in 1968. He is a trained potter and a self taught sculptor pottemager.
He has, amongst other things, exhibited in Chicago, New York and Toronto and has sold his work to the Danish Ministry of Culture and Funen's Art Foundation.
Langeland's Art Towers - a unique way of experiencing art
Denmark's longest art exhibition can be experienced by visiting 12 former electrical transformer towers on Langeland. The art towers give visitors an artistic experience in the heart of the Langeland countryside.
From North to South and East to West, you can explore the cultural landscape and enjoy art in rural peace and quiet.
The towers are open all year round. A tour around them all will always offer a new experience, influenced by both the season and weather. 

You can read more about the  12 art towers at https://www.govisitlangeland.com/langeland/discover/art-towers