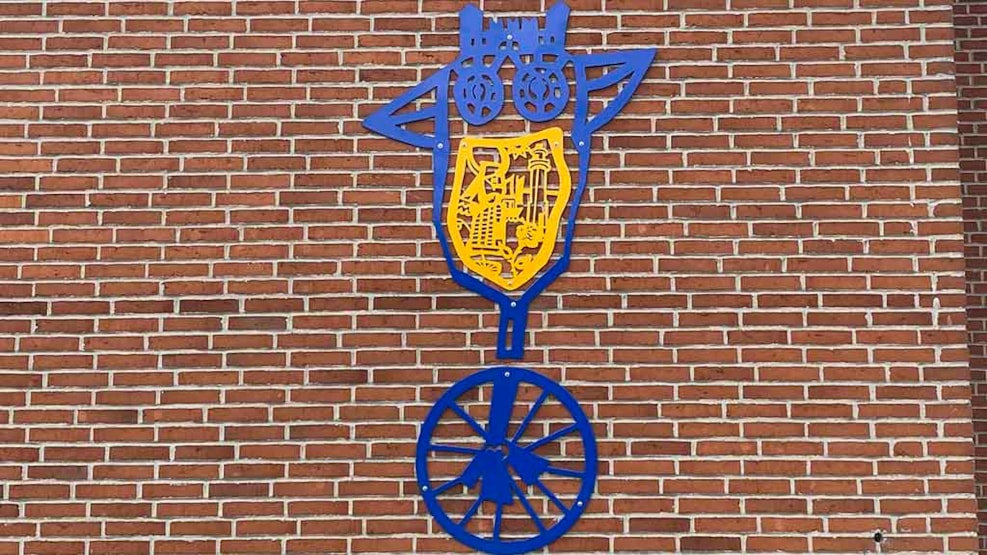 Artwork for the North Funen Castle Route
A lighthouse, a ship, the Manneken Pis, a rose and much more - can you find all the fine symbols of North Funen in the artwork for the North Funen Castle Route?
A sculptural relief in strong yellow and blue colors hangs on the wall of the town hall in Søndersø along the Castle Route on North Funen.
The relief depicts a bird with a beak in two directions, because you can cycle both ways. And the bird hides lots of figures from North Funen.
At the top left, there is a bison head, because North Funen is home to Europe's largest bison farm, Ditlevsdal. Just behind the bison head you see the old wooden ship MS Castor and to the right the lighthouse at Enebærodde. Under the bison head you can see the Glavendrup stone with Denmark's longest runic inscription. To the left of that, you can sense a micro-section of Manneken Pis who pisses with a jet down the bottom, making a small lake. At the bottom right, there is a rose to signify the fact that 90% of all Danish garden roses are produced just outside Bogense, where the Rose Festival is held every year on the first weekend in August. The water and Funen's longest coastline have also crept in, and the sun of course shines from a cloudless sky.
Can you see all the symbols?
It is artist Per Buk who created the relief as part of a series of 10 works of art along the Castle Route in all 10 municipalities of Funen. That is why there are towers and castle spires on top and a bike wheel with 10 spokes for each of the Funen municipalities. Maybe you can also see a heart in the wheel? It is the symbol for the branding of Funen - and of course it also stands for the love for our lovely island.