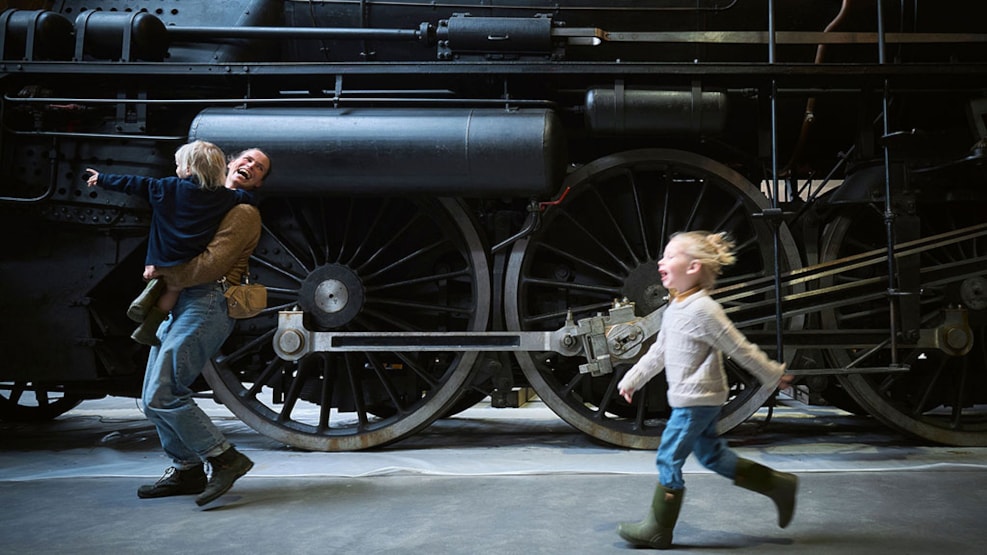 Autumn Holiday at the Railway Museum
The autumn holidays offer exciting activities for the whole family. Experience plays created especially for children, take a nostalgic journey on the vintage bus, enjoy rides on our beloved mini trains, play at the Children's Railway Station and relax in the outdoor playground. The trips with the historic vintage trains from Odense to both Fredericia and Nyborg require separate tickets and offer a unique travelling experience. We welcome you every day from 9-16, and it's worth noting that children (0-17 years) always get FREE admission.
Take a ride on the vintage bus
Hop aboard the distinctive red vintage buses and explore Odense. During the autumn holidays, they run on selected days from 10:00 to 15:00. Approximately a 20-minute journey, at no extra cost other than the museum entrance fee.
Take a fun trip with the mini train
Hop aboard the popular mini train and ride outdoors with views of historical sights such as the old Little Belt Bridge, a Great Belt ferry and a station town. Departure from Copenhagen Central Station all day between 9:15 and 15:45. Approx. 5 minutes duration per tour.
Try a ride in a vintage train
During the autumn holidays, the steam locomotive K 563 pulls carriages from Odense to Nyborg on weekdays. Two daily departures. Tickets purchased separately give a 25% discount on museum admission throughout the autumn holidays. Watch the film about the preparations for K 563's journey and help get the train journey ready.
Historical journey: Veteran train from Odense to Fredericia round trip
For two weekends during the autumn holidays, the vintage train MY 1135 gives you a feel for the express locomotives of the 1950s and 1960s. Take a beautiful trip, visit the Memorial Grove in Fredericia and return to Odense. Separate tickets give a 25% discount on museum admission throughout the autumn holidays.