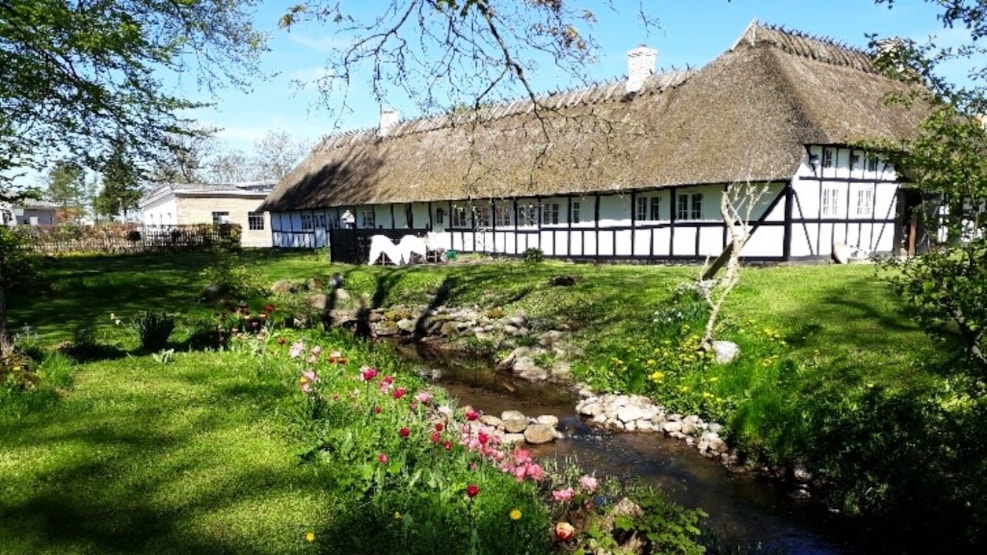 Bækgaarden Bed and Breakfast
Nice little Bed and Breakfast.
Bækgården is one of the old tenant farms that serviced Sandholt Manor House. The farm, which dates back to the 1700's was originally a house with four sides and approximately 45 acres (18 hectares) of land. Today the farm has been preserved in its original style, half-timbered and thatched roof, but there is only one and a half lengths, however, there is a large garden and a beck running through it. Petanque.

Orientation
Sandholts-Lyndelse - is a small village of approximately 250 inhabitants. It's at the foot of the Funen Alps and hidden away just off the Odense - Faaborg road (Route 43). There is about 13 km to Faaborg and to Ringe, 17 km to Egeskov and 28 km to Odense.
Locality
It is a scenic area where there are good opportunities for walks in woods and along fields. Sandholt Manor House is about 1.5 km away and the entire area is known for its many lilac hedges.
The Room
A lovely large room with double bed and own bathroom. It has a private entrance from outside. There is a sitting room. The room overlooks a large garden with the beck that runs just outside the window.