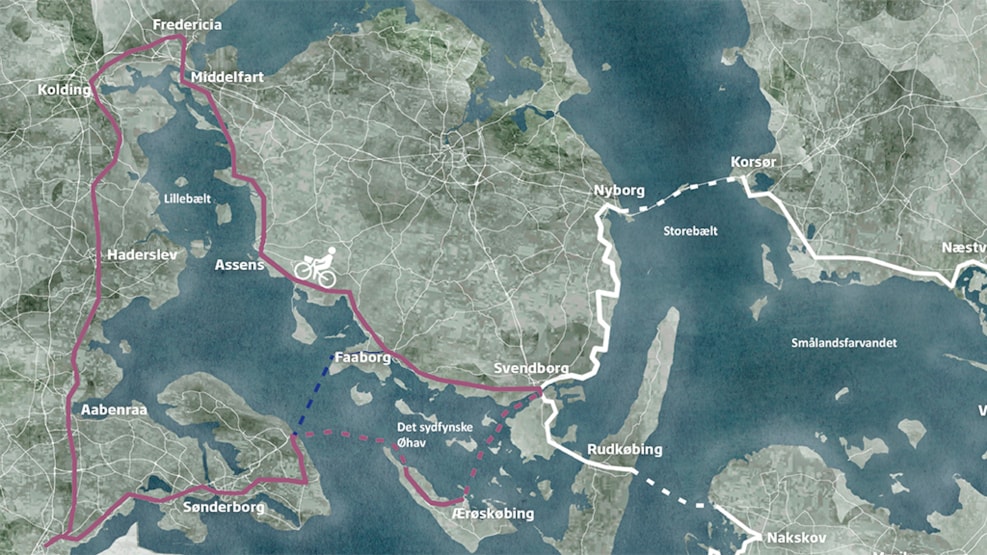 The Baltic Sea Route N8 - The Little Belt region 331 km
Along Denmarks largest Nature Park - Nature Park Little Belt
Km 331 km
Alternative route suggestions 288 km
Height in metres 784 m
Start: Middelfart
At 820 km, the Baltic Sea Route is Denmark's longest national cycle route. It runs across southern Denmark and is linked together by five ferry connections and eight bridges. The beautiful coastal route combines some of the best natural and cultural experiences in southern Denmark.
The eastern part of the route is 331 km long and runs along Denmark's largest Nature Park, The Little Belt Nature Park, with experiences such as Bridgewalking, guided tours of Fredericia Ramparts and discoveries at the royal castle Koldinghus. The route continues through historic southern Jutland with Haderslev Cathedral and Dybbøl Mill and Sønderborg Castle. The tour continues to the idyllic island of Ærø, and onto the maritime coastal town of Svendborg. From Svendborg, the routes continue through the scenic town of Assens and back to the old coastal town of Middelfart. The route takes you down good cycling paths and roads, and is close to town life, restaurants and Bed + Bike accommodation.

Route in stages:
Stage 1: Middelfart – Fredericia – Kolding (37 km)
Stage 2: Kolding – Haderslev (37 km)
Stage 3: Haderslev – Aabenraa (35 km)
Stage 4: Aabenraa – Sønderborg (60 km)
Stage 5: Sønderborg – Ærøskøbing (41 km)
Stage 6: Ærøskøbing – Fåborg ( 35 km)
Stage 7: Fåborg – Assens (43 km)
Stage 8: Assens – Middelfart ( 43 km)
Under "Links" at the bottom of the page you will find a link to the route in Naviki. Here you can register as a user, after which you can enter the route and save it under "my routes". Then you can download the Naviki app and open up and find the route under "my routes" to follow the route.