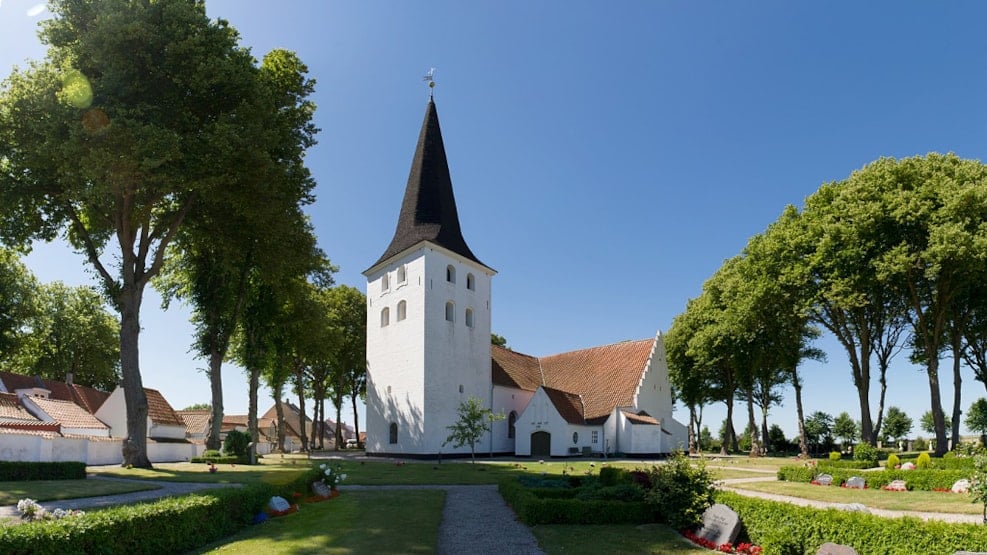 Bogense Kirke - St. Nicholas Church
Bogense Church is located on top of a hillside by the coast. There is an impressive view of the sea from the church hill, and the beautiful church with the high tower and church spire can be seen from afar.
Bogense Church was built in the 12th century as a small village church, but has been rebuilt and expanded several times as the town grew.
In the 15th century, it even had two floors. The second floor may have been used as a granary or warehouse for the town's citizens. In 2009, the church underwent a thorough renovation.
The church is dedicated to Saint Nicholas, the saint of sailors and sailors. That is why the church is called St. Nicolaj Kirke.
The church tower is facing east, in contrast to almost all Danish church towers that face west. The church is too close to the slope for the tower to be placed to the east.
In the past, the tower was an important beacon that could be seen from afar.
The tower has a high octagonal spire covered with more than 27,000 black tarred oak shingles. At the top there is a dome that is 60 cm in diameter. During World War II, the German soldiers fired on targets after the dome, so it had to be renovated accordingly.
Worth a look
The altarpiece is a so-called catechism-. or writing altarpiece with a canopy from 1588, and in it is recycled wood from the church's late medieval altarpiece.
The pulpit with arches and double columns was donated by the church guardians Niels Bang and Mads Ibsen in 1604 and made by the sculptor Harmen Garstenkorn.
The large chancel crucifix is ​​from around 1485 and was donated to the church by the brothers Jep and Jens Mortensen, who also gave the church a new altarpiece and other items.
In the side aisle of the church you can find well-preserved tombstones for the local half-noble family Halvbjørn and prominent members of the city's bourgeoisie, among others the stone with the infant child of the little alderman's daughter Margrete, who died in 1583.