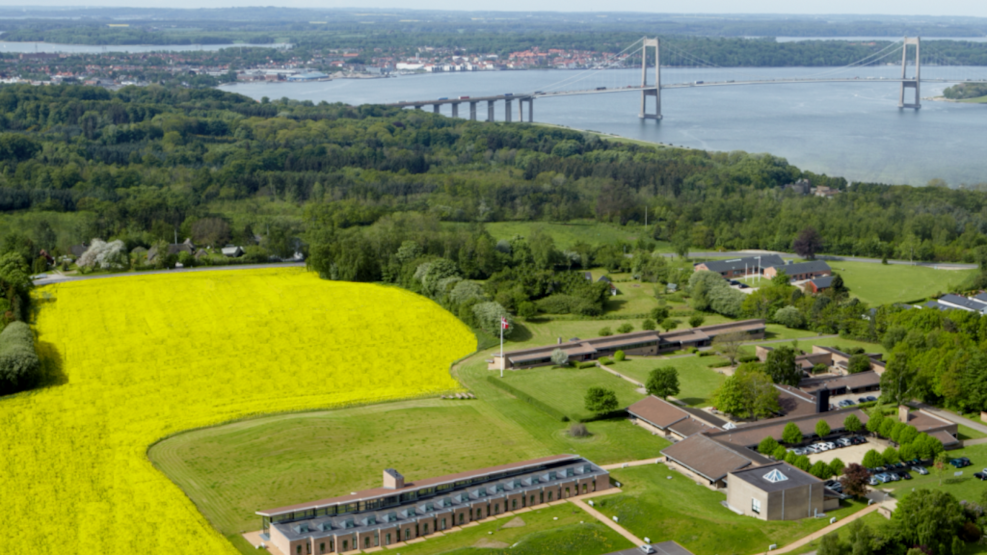 Brogården - it makes sense
The conference centre BROGAARDEN in Middelfart, just two minutes' drive from the motorway, is set in beautiful surroundings with a view over the Little Belt's Bridge and just a short walk down to the sea. The foundation's three modern conference centres BROGAARDEN in Middelfart, BYMOSE HEGN in north Zealand and PINDSTRUP CENTRET in Djursland are unique. We believe that while your heart is beating we can make a difference. We are a group of enthusiasts who like to get involved. Challenges we meet in our daily routine will be quickly dealt with as part of our service, providing creative solutions for all our guests needs.

About Brogaarden
We see it as a natural dualism that our unique facilities are filled from time to time with very different kinds of guests. We have more than 40 years' experience and continue to develop together with our guests; learning as much from the result-orientated CEO and researchers from all over Europe as we do from the inquisitive 5 year old boy with ADHD - that are among our most demanding guests. This creates a dynamic atmosphere that brings BROGAARDEN to life.
As a guest at BROGAARDEN you are part of a bridge linking people together, supporting the foundation's charitable work for families and their children with disabilities. Every year several thousands of people participate in family courses and holiday camps for children and young people with and without handicap.
The foundation's three conference centres have been approved of by the Agency for Modernisation Ministry of Finance for state run courses and conferences. Contact us for more details.
Facilities and free educational resources
BROGAARDEN has 17 modern conference and meeting rooms that are all furnished with all the necessary AV equipment. Seven of these rooms can seat up to 260 people.
The conference centre is situated close to the woods and the Little Belt with plenty of scope for team building activities or many of the other activities offered around LILLEBÆLT WATERS. Alternatively use our free educational equipment and activities to learn something new.
Restaurant
At BROGAARDEN you will always be welcomed with smiles, laughter and open doors. The aroma of freshly baked bread and delicious food prepared from the seasonal produce, spread throughout the building. You are always welcome to pop into the kitchen and meet the creative cooks. The cooks have plenty of experienced catering for special diets if you have particular request for food.
Accommodation
BROGAARDEN has 114 rooms: singles, doubles and family apartments for up to four people in the new award winning conference building BROHUSET with fantastic shared facilities. BROHUSET is handicap friendly.
We look forward to seeing you for a stay that makes sense and where you can support a good cause.