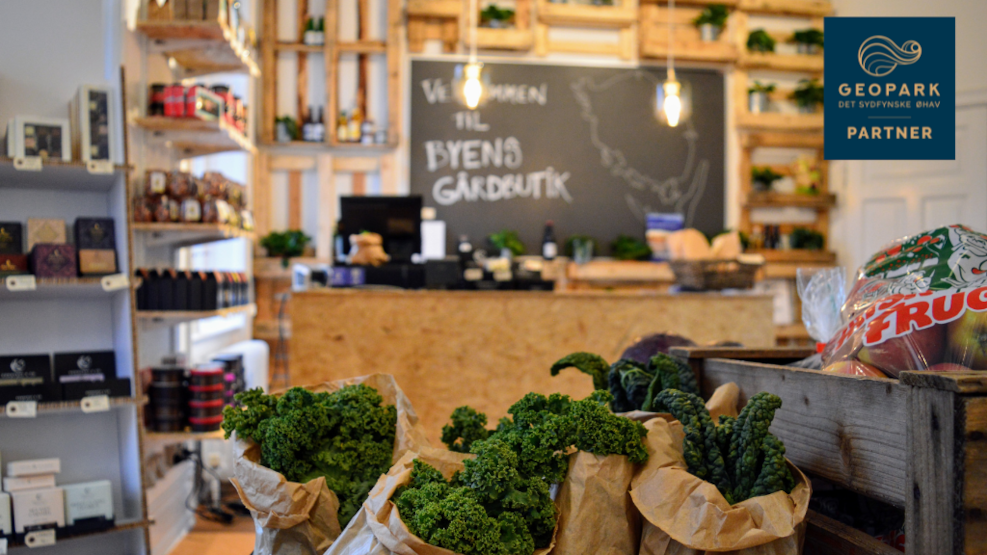 Byens Gårdbutik
Byens Gårdbutik (Urban Farm shop) is the place to go if you are looking for local food specialities and unique local crafts. Come experience a broad selection of quality products from around southern Fyn. We sell fresh local produce and products such as fruit, vegetables, eggs and meat as well as cheese, pickled goods, juices, chocolate, candy, ale, soda and even local wine.
From farm to fork
Byes Gårdbutik (Urban Farm Shop) brings local products closer. We carefully select and collect the best products of the season from the farms around southern Fyn and the islands of the archipelago and bring them to you. All products are bought and brought directly from the producers and sold in our store in central Svendborg.
Local food
Our mission is to support and promote small producers from our local area and inspire our costumers to buy local products – all year. This benefits health, the environment and the growth in the local society. When you buy products in our store you support small local businesses, buy fresh products that are in season and receive handmade quality products that are unique and are not found in other stores. Because we work closely with every producer, we can provide you with the story and information of every product.
New café opening spring 2018
This spring we will also open a cafe in the store where you can enjoy a light and local meal or just a cup a coffee with cake or local chocolate on the side. The café is open for lunch and offers a variety of local artisan food specialities which you can enjoy in the south facing courtyard or inside the café.
Behind Byens Gårdbutik (Urban Farm Shop) is AOF Center Fyn that helps the community by employing people outside the regular work force with language education and upgrading of skills. The ambition is to create a workplace that embraces people who cannot possess a regular fulltime job.