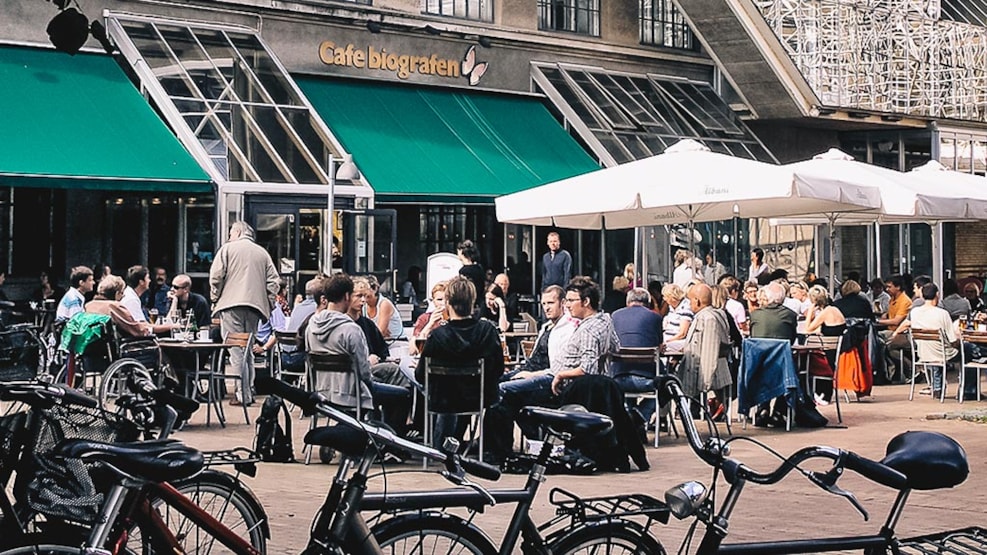 Café Biografen - Café and Cinema
Cafébiografen (The Cinema Café) is one of the city's oldest cafés that opened way back in 1983. The location in the old factory buildings from Brandts Klædefabrik gives the place its unique charm, and as the name suggests, the café contains three small movie theatres. Here you can enjoy the smaller films that often have a message, but the big successes are also on the programme. The inspiration came from Aarhus (East of Paradise) and Copenhagen (Klaptræet), where the concept of combining a café and a cinema already was a success.
In the summer, their outdoor seating is a hit, and this is where you meet the locals on a hot summer day. The Amphitheater lies just outside the window. This venue offers small concerts and other events during the outdoor season. Next door is Kunstmuseum Brandts, where you can experience art by Danish and international artists all year round and opposite are Studenterhuset and Farvergården, which each offer cultural experiences.
The menu is a classic café menu with light dishes, brunch and cold and hot drinks. There are several options for vegetarian dishes.
The café cinema also arranges several smaller events, including weekly baby cinema and senior cinema, summer dance events with instructors in various dance genres and open-air films, e.g. during the Odense Film Festival and the fantasy festival Magic Days. You can read more about the specific events on their website.