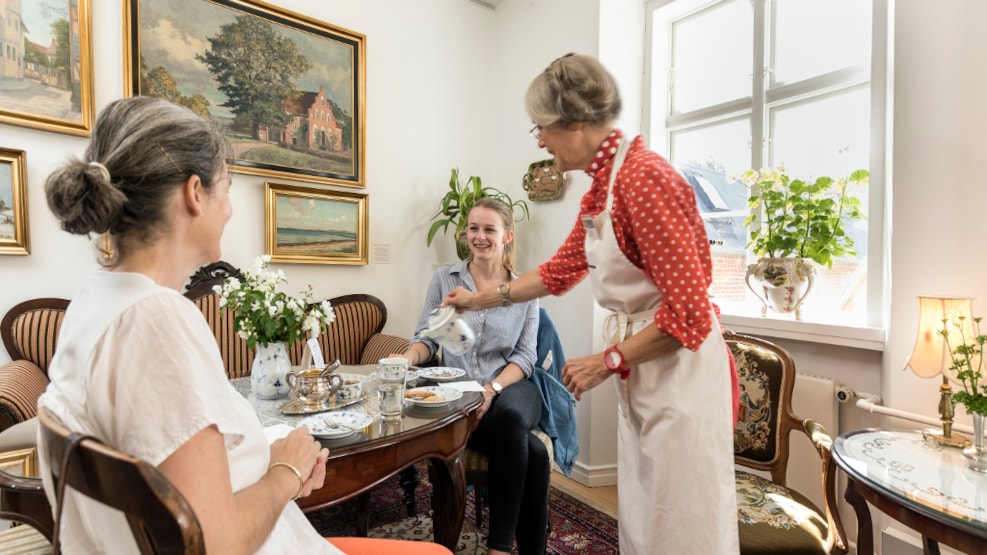 Café Inga - A nostalgic experience
Visit Café Inga at Middelfart Museum. Coffee/tea and original cake recipes!
Enjoy your coffee in beautiful surroundings and taste our homemade buns and cakes
The café is named after Inga Jørgensen, who for many years ran a boarding house at Grimmerhus (now CLAY Museum of Ceramic Art Denmark).
The café is furnished with furniture donated by Inga Jørgensen, and the coffee is served in the old blue-fluted china, which was originally used in the boarding house.
Our competent café ladies (staff members) bake fresh cakes for the café – using some of Inga Jørgensen's original recipes
Lemon pie, chocolate-orange cake, cookies with rolled oats and princess cookies are just some of the cakes sold from the café. We also have buns fresh from the oven each day.
Besides cake, we serve coffee, special coffees, tea and organic lemonade and other soft drinks.